Hello all the beautiful ladies out there! I hope you liked my last review on the VLCC Ayurveda Multani Mitti Face Pack. Today's review is going to be about something that I'd wanted to try since long! Yes, charcoal face packs and peel-off masks are the new trend and a lot of brands are coming up with their charcoal face masks and packs nowadays. Charcoal or activated charcoal is really good for your skin. It not only removes impurities from your face but also keeps your skin acne-free. It detoxifies your skin, treats acne, absorbs excess oil, purifies clogged pores, and also whitens your teeth, just to name a few benefits! Charcoal is a boon for people with oily skin and it also helps in removing pesky blackheads from and around your nose. I bought this one from the brand Jeva- a new brand that I hadn't heard of before but found amazing reviews of its products on Nykaa and YouTube, hence I decided to try out this Jeva Activated Charcoal Face Pack.
A little about this brand just so that you guys know what it is about.
Known for its skin nourishing, new-generation liposoluble waxes with natural formulations, Jeva brand brings to you unique waxing, skin and personal care products that are of superior quality and guarantee total customer satisfaction. Owing to its brilliant range of offerings, Jeva is now a highly favoured brand in India. Let's start with the review to know more about the product!
Product Description:
Get instantly brighter, healthier-looking skin. A soft, creamy formula that applies nicely and is also easy to wash off, without drying your face. Gentle exfoliation of Activated Bamboo Charcoal removes dead cells and impurities, while the antioxidant benefit of Argan Oil helps to give skin a natural boost and acts as a great natural moisturizer. A must-have product for all skin types. The Jeva Activated Charcoal Face Pack with Argan Oil is made up of natural ingredients and is free from parabens.
How to use:
Apply the pack to the face and neck avoiding contact with eyes.
Leave it for 5-10 minutes for it to dry.
Rinse with warm water and feel the difference.
Ingredients: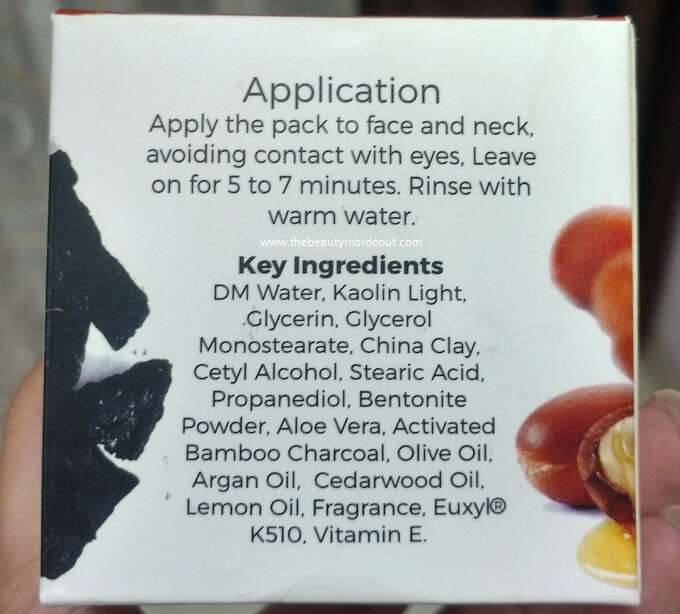 Price and Availability: Rs. 449 for 100gm. However, I bought it at Rs. 299 from Nykaa. You can also find it at a good discount from Nykaa. It is available only online.
My Take on Jeva Activated Charcoal Face Pack with Argan Oil:
Packaging: The Jeva Activated Charcoal Face Pack with Argan Oil comes packed in a white cardboard box which contains all the information of the product. The face pack comes in a heavy glass jar with a plastic screw lid. The jar also contains the same information as mentioned on the outer box. Since it is a glass jar and a little heavy, I don't think it is travel-friendly. When you open the lid, you find another white lid, provided to avoid any spill and to ensure that the pack doesn't get onto the outer lid. The quantity is really good and will last for months or maybe the whole year. So I think the price of the face pack does justice with the quantity.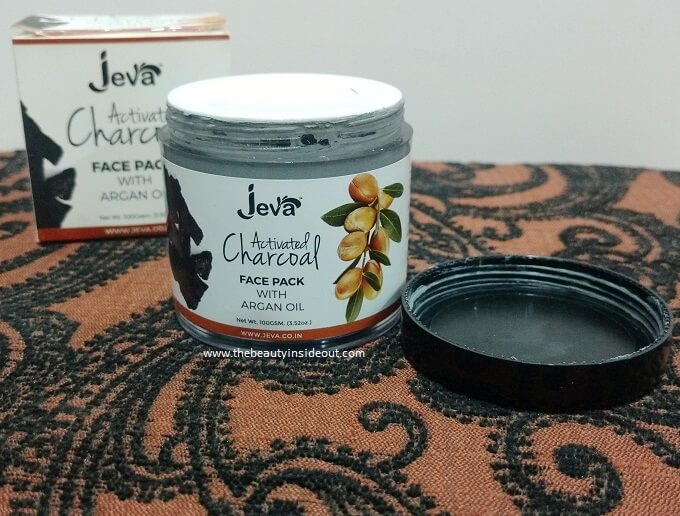 Fragrance: The fragrance of the face pack is somewhat citrusy. One good thing about it is that unlike other face packs available in the market, it doesn't smell artificial. It has a natural citrusy fragrance that is not overpowering at all. I do not have a problem with its smell, however, I am not sure how others might like the fragrance of the product.
Texture: The color of the face pack is light grey. It has a thick creamy consistency. I found an oil (Argan oil I am supposing) separating out from the pack the moment I opened it. But I mixed it all well with the brush that I used for applying the pack. The face pack spreads easily on the skin.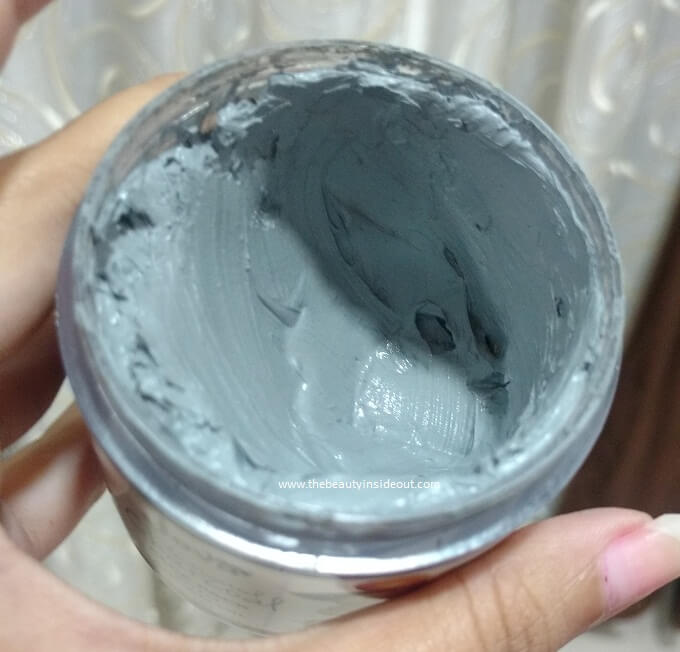 My Experience: I use the face pack once a week. I apply it all over my face and neck except the eye area with a brush for the hygiene reasons of course, since it comes in a glass jar and not in a tube packaging. So using fingers to apply it is not a good idea. Leave it on for 5-7 minutes and then wash it off as per the directions mentioned. I do not wait for it to dry out completely since I feel it might dry out my skin. I wash it off when it's semi-dry. The face pack itself does not take much time to dry out btw! Which is why the brand suggests to keep it only for 5-10 minutes maybe. The pack has a thick creamy consistency and it is easy to apply. It spreads evenly and smoothly on the face, however, it isn't that easy to wash it off. I like the fact that it also has Argan oil in it which aids in nourishing your skin. My skin actually felt refreshed, clean and clear post using it. It gave a matte, oil-free look to my face. It also helped me with my blackheads on the nose. I could actually see them coming off effortlessly. However, I did not see any glow on my face and had to immediately apply a moisturizer post using it since I found it a bit drying over my face. It's a decent face pack that can be used once a week.

Pros:
Good Quantity.
Paraben-free.
Nice fragrance.
Cleanses and refreshes skin.
Removes blackheads.
Has Argan oil.
Good for oily and acne prone skin.
Takes out dirt from the face and makes it oil free.
Dries quickly.
Cons:
Not travel-friendly.
A bit drying for normal skin, can be very drying for dry and extra dry skin.
Does not impart any glow.
Oil separates from the pack so you have to mix it again.
Does not work much on pimples.
Rating: 3.8/5
Would I recommend? Overall, it's a decent face pack that can be used once a week to remove all the dirt and oil from your face. People with oily skin should definitely give it a try, however, people with normal to dry skin should slather a good amount of moisturizer post using it since it might dry out your skin. I am not really sure if I'll buy this again since I would like to try its other variant as well- the Jeva Activated Charcoal Peel-Off Mask.
Hope this helped!