Innisfree has launched the Orchid Range specifically targeting aging skin, to improve elasticity, tackle dryness and uneven skin tone. During Christmas Sale, Innisfree had this great Holiday Christmas Edition Kit at an amazing deal. The kit had five products in it and I had already started using them one by one after my travel sized Forest Essentials Products got over. Since I've been battling with dryness issues due to the harsh weather, I started off with the Innisfree Orchid Enriched Cream which is an all in one anti-aging cream and is one of the Best Sellers of Innisfree. Keep reading to know my thoughts about this rich cream.
Innisfree Orchid Range consists of 5 products
Innisfree Orchid Enriched Cream
Innisfree Orchid Gel Cream
Innisfree Orchid Eye Cream
Innisfree Orchid Intense Cream
Innisfree Massage Cream
About Innisfree Orchid Enriched Cream
Innisfree Orchid Enriched Cream is an anti-aging cream made with Jeju orchids that gives you younger and  healthier skin. It is enriched with the Precious Orchid Elixir™, which is a superior antioxidant ingredient extracted from Jeju orchids that makes your skin glowing and radiant while strengthening. This is an all-in-one care for elasticity, brightening, and nourishing. By providing full nourishment, it tightens skin, reduces wrinkles, and brightens your overall skin tone.
How to use Innisfree Orchid Enriched Cream?
Put a small amount of cream into your hand and apply it around your face. If your skin is especially dry, apply another thin layer of cream.
Ingredients: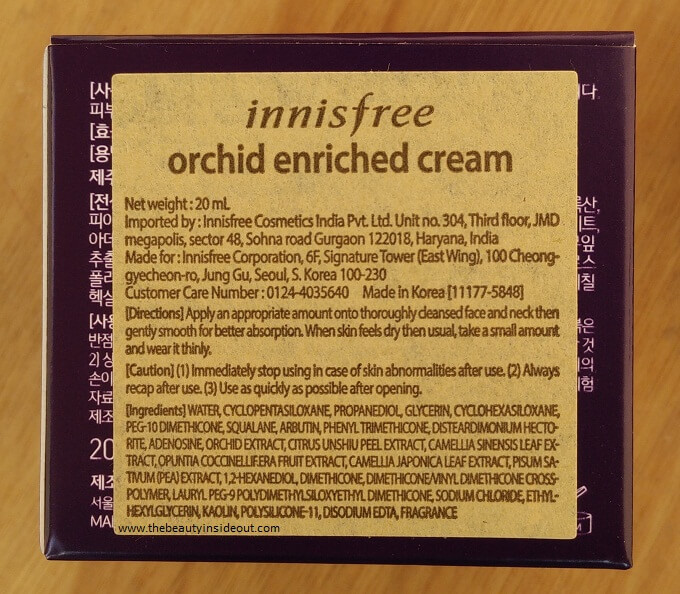 Price: 2000 INR for 50 ml
My take on Innisfree Orchid Enriched Cream:
Packaging: Innisfree Orchid Enriched Cream comes in a cute little violet coloured tub packaging. The tub occupies very less space and is very travel friendly. But no denial, tubs are unhygienic and they could have easily made this into a tube or could have provided a small spatula with it. The tub was housed in a card box. Since it was made for Christmas, the box was themed in line with that having a cute christmasy design. Otherwise the usual packaging comes in a light violet box. The box is furnished with details about the product such as ingredient list, usage directions, price. Everything is mentioned properly which I'm happy about.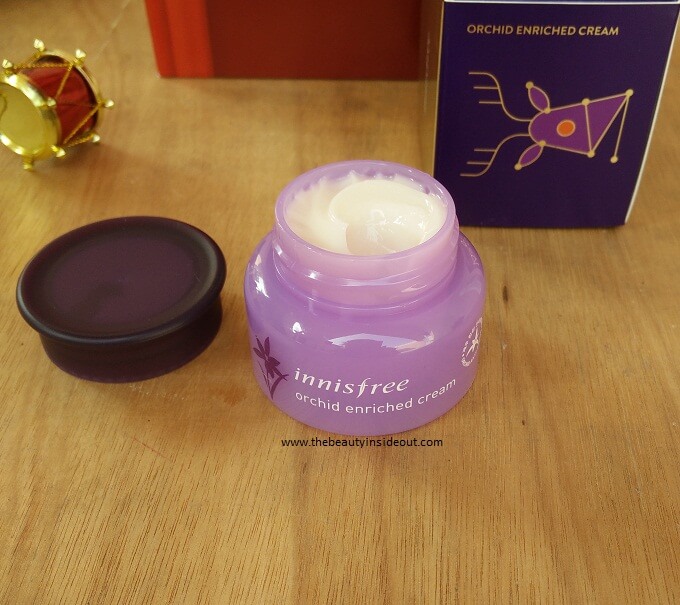 Color & Fragrance: Innisfree Orchid Enriched Cream is an off white cream with a delicate refreshing floral scent. I'm not into such artificial fragrances but still this is a nice one. Not very overwhelming and almost disappears after sometime.
Texture: It has a smooth velvety texture and a light gel to cream consistency. However on application this goes on a little heavier.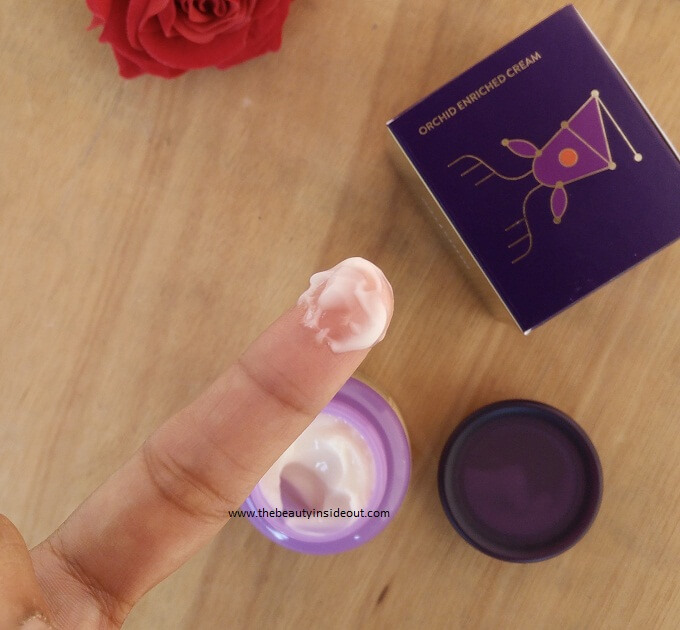 Experience: So far, I have used only basic night creams. I hadn't thought to include any anti-aging specific product in my routine. But now, since I'm in my late twenties, I think it's high time that I include one. Also my skin has started becoming more dry in this weather, particularly this year. Even last year during winters, my skin wasn't very dry or even slightly dry. It is just this year that I've been facing dryness. It has become so dry that sometimes it starts itching. I'm wondering why! That's also the reason why this cream suited my usual oily skin.
The orchid cream looks like it has a gel cream consistency, but it is not. It feels thick and balmy on the skin and does not get absorbed easily. A good massage is needed, still the skin is left sticky and shiny. It takes from 15 to 30 minutes for the stickiness to subside, thereafter skin is left immensely moisturized, supple and velvety soft. I mostly used this as a standalone night cream after cleansing and toning, no serums or sleeping packs as that would make it too heavy. The next morning, I always woke up with a fresh skin without any dryness. It also adds plumpness and a bit of natural glow to my skin after the first usage itself.
The orchid cream can also be used during the day time if you have dry to very dry skin. Personally I tried it during the daytime as well and it was not that bad actually. The cream is rich but once it sinks in, skin feels light and comfortable like I have nothing on. But if you use this as day cream, you will have to add a layer of sunscreen as this doesn't come with an SPF.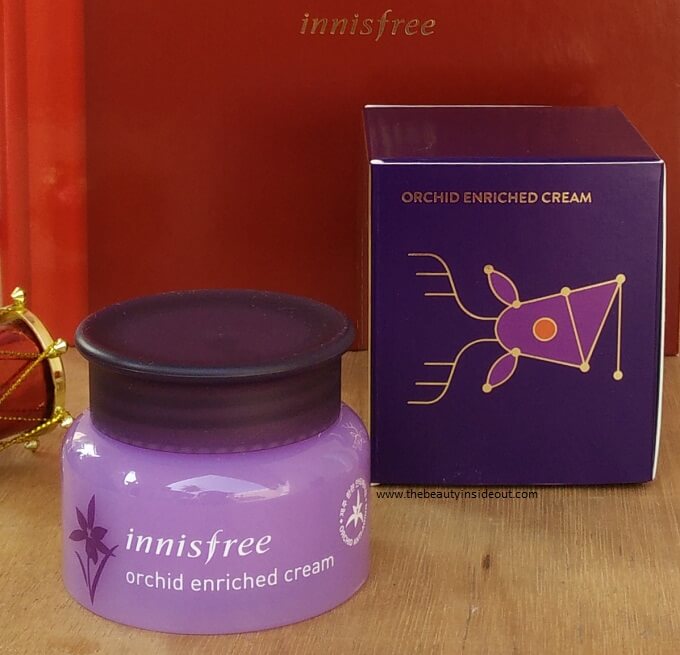 As for its anti-aging benefits, it does replenish moisture and gives a youthful skin. I loved how this cream left my skin soft, radiant and plumped. Continuous usage can surely prevent signs of aging. However I am not sure if this would remove existing wrinkles and fine lines. I do not have them, so I do not know if they work on them. It did significantly brighten up my skin by removing the dullness that I had.
In two weeks time of using this cream, my skin broke out once. Nothing majorly but still this can cause pimples. The Cosdna Analysis came up with no irritants and two acne triggering ingredients, one of which is Dimethicone. So if silicones breaks you out often, this may not suit you. The formula is very rich and highly moisturizing which would suit only dry and very dry skin types. Oily and acne prone skin types should stay away from this cream and this is definitely not a summer product too. Overall, I'm pretty satisfied with the performance of this product. It is a good anti-aging night cream for dry skin!
Pros:
Cute packaging.
A little goes a long way.
Highly moisturizing and hydrating.
Tackles dryness and imparts suppleness and plumpness.
Gives a radiant glow when used as a night cream.Removes Dullness and Revives tired skin.
Great for winters and dry skin people.
Free from parabens, mineral oil, synthetic colorants, animal originated ingredients and imidazolidinyl urea.
Cons:
Expensive.
Takes time to get absorbed completely.
Skin feels sticky and shiny post application.
Contains silicones, added fragrance and other chemicals.
Can cause pimples.
Not suitable for summers and oily skin types.
Rating: 4.2/5
Looking for other Korean Beauty Products in India?