Today's review is about Hilary Rhoda 16 Eye Shadow Palette 02. Hilary Rhoda is a famous makeup brand among affordable beauty lovers. Hilary Rhoda makes pocket-friendly dupes of various famous makeup products; specially eye palettes. They also offer other products but their eye shadow palettes are mostly gets maximum good reviews from the online makeup community. During these days of lockdown I decided to amp up my makeup skills a bit. I needed a colourful palette to practice advanced eye makeup looks. I had my eyes on NYX Professional Makeup Ultimate Shadow Palette Brights. Spending 1700 bucks just for a practice product did not seem viable at this moment. About this time I found out Hilary Rhoda 16 Eye Shadow Palette in 02. It is a very close Dupe of NYX Ultimate Shadow Palette Brights in shade compilation and outlook. Let's find out more about this exciting vibrant eyeshadow palette.
Product Description:
Hilary Rhoda 16 Eye Shadow Palette comes in a set of 16 different shades that are great for a multi-finish mix and match combination. These mineral-based eye shadows are so smooth in texture that they are good for contouring eyes and creating multi-dimensional looks. You can choose between a rainbow palette (Shade 02) for a grander look or a shades of nude palette (Shade 01) for a more day to day, casual look.
Price: Rs.229 for 20.8gm
Where to Buy? Hilary Rhoda 16 Eye Shadow Palette is available at various online stores like amazon and flipkart. They are also available on instagram stores that sell Hilary Rhoda products. Hilary Rhoda products are often on sale. You can get this between 170-220 if you buy online. You can also buy this Hilary Rhoda palette at local beauty stores.
Dupe of NYX Ultimate Shadow Palette Brights – Hilary Rhoda 16 Eye Shadow Palette 02 Review
Packaging: Hilary Rhoda 16 Eye Shadow Palette comes in a square plastic box with clear top lid. Unlike most pocket-friendly eye palettes, this palette is quite sturdy. Eyeshadow palettes don't survive heavy pressure or fall. This has high chances of damage in such situations. The palette is quite big in size. I didn't expect it to contain 20.8gm product while the Nyx palette contains only 13.28gm of product. There are slight diffrences in the size but both NYX and Hilary Rhoda palettes have very similar colour placement. This palette has a white cardboard outer packaging. This outer pack mentions all ingredients in detail along with the expiry date. Both palette have similarities in ingredients.
NYX Brights is a dupe of Viseart Editorial Mattes eye palette. Hilary Rhoda actually followed the packaging style of Viseart but kept the shade range similar to NYX Brights.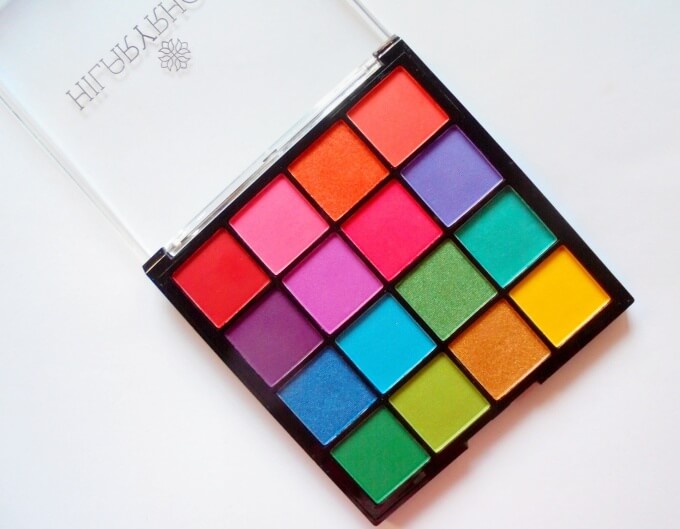 Variants: NYX Professional Makeup Ultimate Shadow Palette has 5 variants; Warm Neutrals, Ash, Brights, Smokey & Highlight and Phoenix. Hilary Rhoda 16 Eye Shadow Palette range has two variants available. Its 01 shade is the dupe for Warm Neutrals. The 02 shade, which I bought, duplicates Brights palette.
Shade:
Both NYX Ultimate palette and this Hilary Rhoda palette have 16 shades in the palette divided in 4 rows. Each row contains 4 shadows. Though the colours are almost same in both the palettes, finishes are different for a few shades.
1st Row: This row contains three mattes (a red, a light pink and an orange) and a shimmer peach. In the original palette the red shade was slightly shimmery but looked matte on the eyes. The peach and orange shade in Brights palette had matte finish and they looked pretty similar on the eyes. Hilary Rhoda has done a great job by making the peach one shimmery. This way we get a lighter peach shimmer for the lid.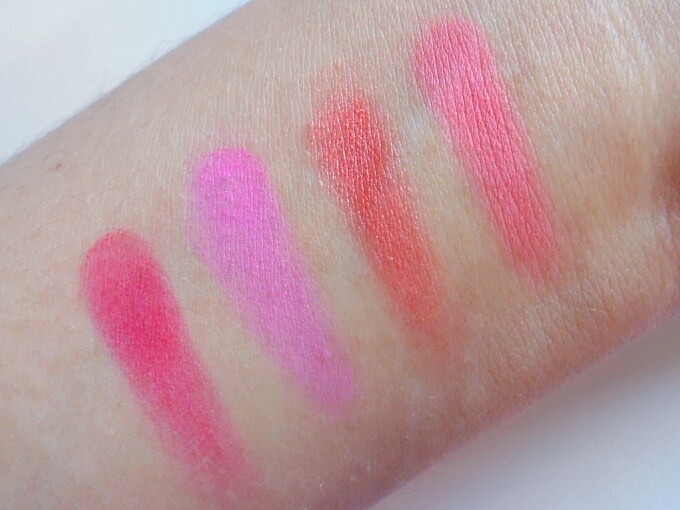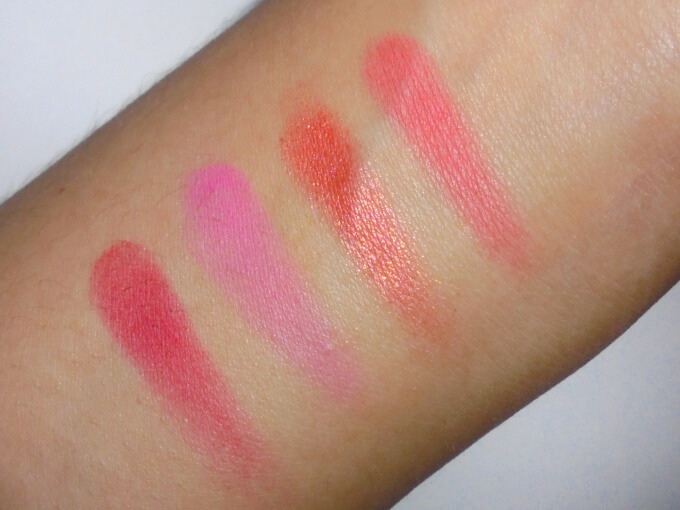 2nd Row: This row has a deeper and a lighter purple, a bright reddish pink and a lilac. NYX palette had shimmer in the deep purple which looked quite odd on eyes. Hilary Rhoda palettes have kept this row all matte. The lilac shade of NYX Brights was powdery and less pigmented. Hilary Rhoda again gets some kudos for making this shade deeper and more pigmented.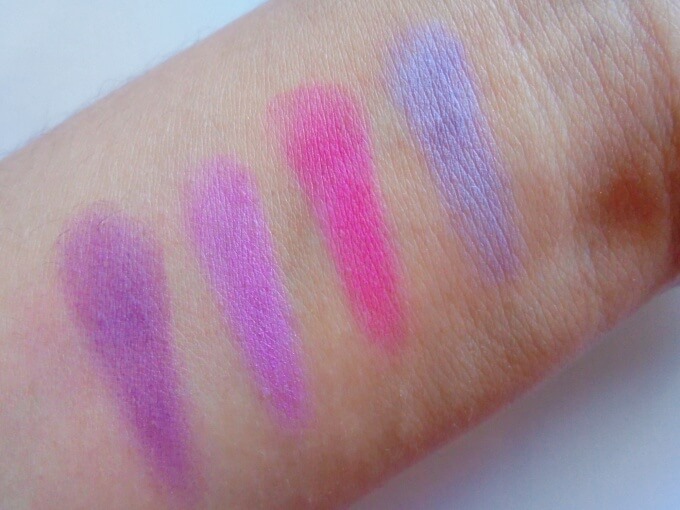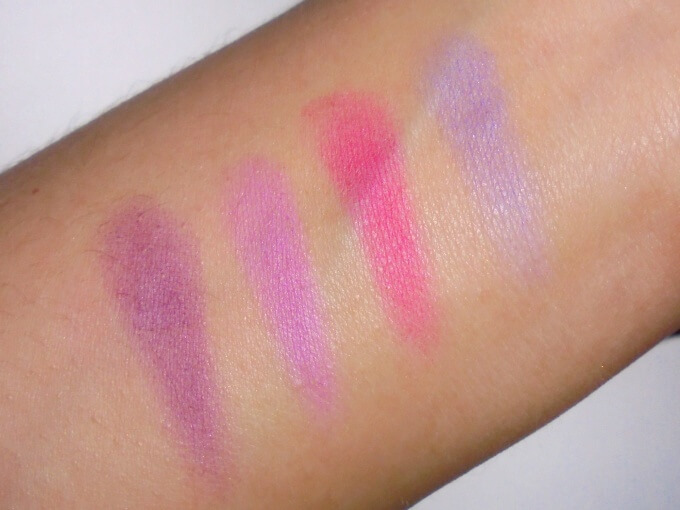 3rd Row: This row has two blues and two teal shades. The deep blue shade has beautiful fine shimmers; the original NYX palette's deep blue was matte. The light blue shade is matte in both palettes. This row also has a light green shimmer shade and a matte teal blue shade. NYX Brights palette had teal shimmer instead of green. The teals looked pretty similar on eyes. All shades of Hilary Rhoda palette looks different on eyes.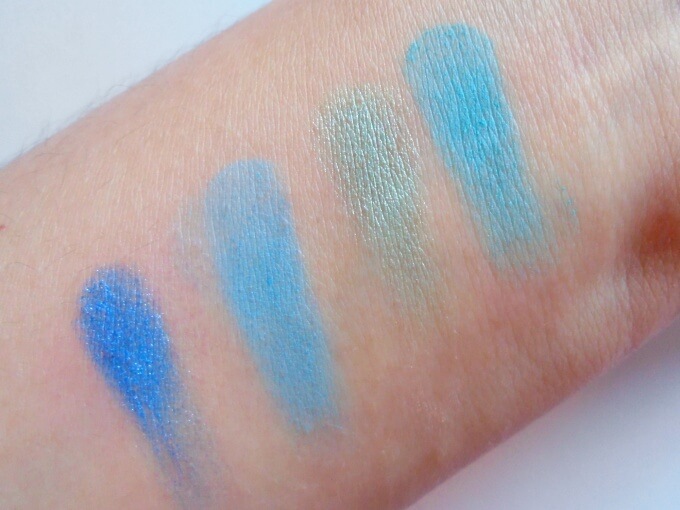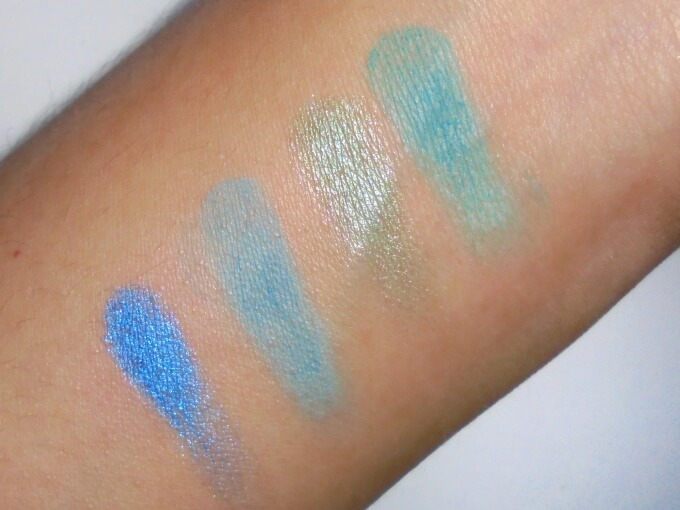 4th Row: The NYX palette had a warm mustard yellow matte shade. Hilary Rhoda replaced it with a golden shimmer shade. This is actually great because we don't need two yellows of same hue. Golden shimmer is a versatile shade and a definite must have for anyone. Apart from it, there are two greens (one deep and one light) and a yellow. The light green is a satin matte and the others are mattes. These three are also present in NYX palette in similar formula.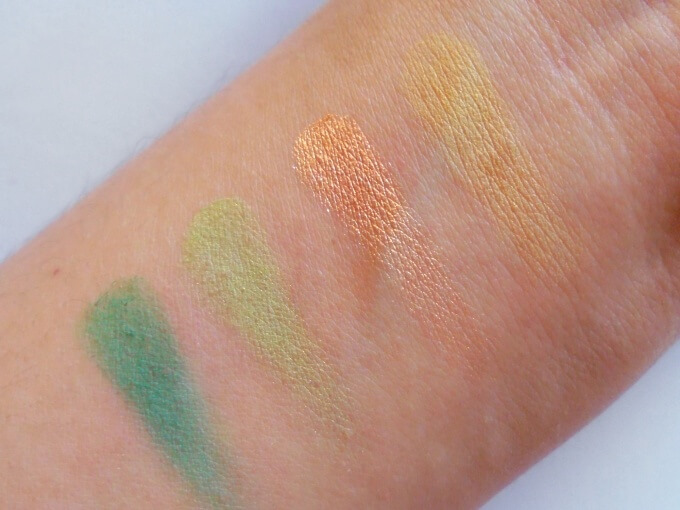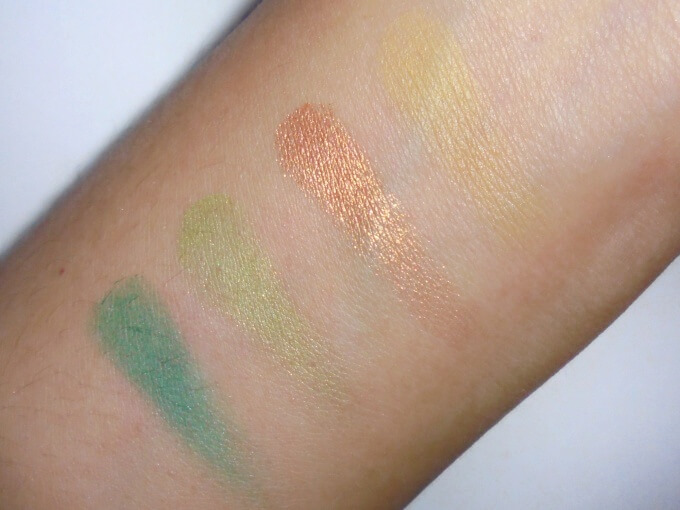 Texture & Pigmentation: On an average, this Hilary Rhoda palette has good pigmentation. In some cases the pigmentation is even better than NYX Brights palette. The formula is soft and blendable. It is definitely not the buttery soft formula that we see in expensive palettes. Still, it's a 'easy to work with' palette. The NYX Brights palette had low pigmentation issue with the yellow shade. This one too has the same issue. You have to build the intensity. The shimmers are not chunky.
Related:
Fragrance: This palette has a faint floral fragrance. The smell is so light that it becomes indistinguishable. Though I like fragrance free makeup, the almost non-existent smell does not bother me.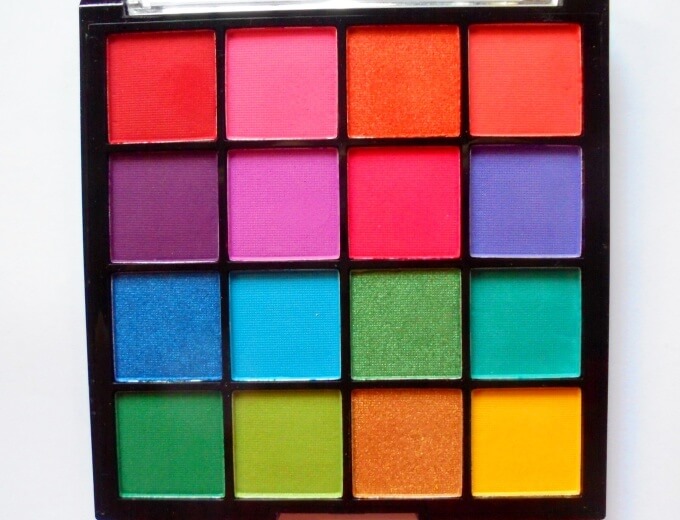 My Experience:
I have created a number of looks using this palette. I have tried cut creases, spotlight cut creases, even coloured smokey eyes. For these looks, plenty of matte shades are needed. Most colourful palettes include either shimmer or matte shades from a colour range. The biggest advantage with this palette is, you get at least one midtone matte and a shimmer from the same colour family. The deeper shades are also there and so is the golden shimmer. You can easily create a colourful gradient look using only this palette. I can confidently say, this Rs.229 palette outperforms NYX Professional Makeup Ultimate Shadow Palette Brights in both shade selection and colour finishes.
Looks I've created with this Dupe of NYX Ultimate Shadow Palette Brights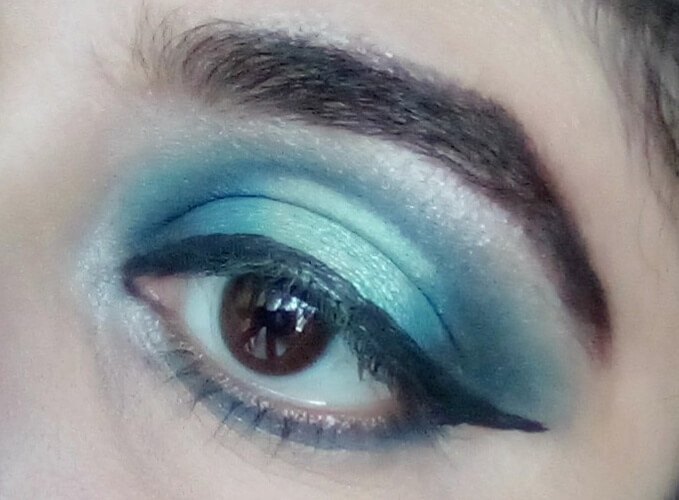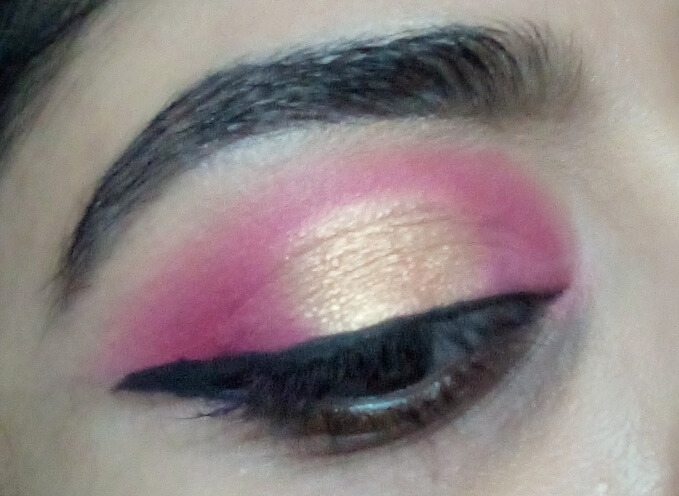 Pros:
1. Vibrant eyeshadow palettes with great shade mix.
2. 11 mattes, 4 shimmers and 1 satin shade.
3. Good pigmentation.
4. Blendable formula.
5. Extremely pocket-friendly.
6. Dupe of NYX Ultimate Shadow Palette Brights.
Cons:
1. Some shade needs intensity building.
2. Might lose intensity after 4-5 hours.
Rating: 4.75/5
Would I Recommend? Yes, definitely! Both quantity and quality wise Hilary Rhoda 16 Eye Shadow Palette 02 gives tough competition to NYX Professional Makeup Ultimate Shadow Palette Brights. In some cases, it is even better than NYX. For just a fraction of price you are getting enough colours to create funky eye looks. Highly recommended!