Since I am a dry skin person, I have the habit of applying body oils depending on the climate. On days when my skin is super dry and need intense moisturization especially during the harsh winters, I tend to use extra virgin olive oil and other days I simply use extra virgin coconut oil. Both work well for me. I feel applying oils is the best way to lock in moisture for dry skin but one thing that is annoying with these oils is that, natural oils tends to be sticky and transfers to my clothes and ruin them. So I mostly use them when I am at home and when I go out I prefer to dab on body lotions or butters. So recently when I received Bio Bloom After Bath Oil in my OhCuteBox subscription box, I was excited to try it out and test whether it'll be suitable to use when I am going out. Let's get into the review.
About Bio Bloom After Bath Oil Sandalwood & Patchouli: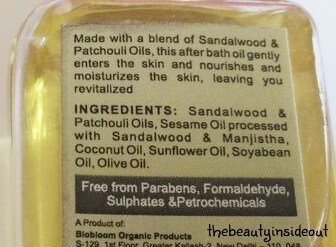 Priced at Rs.499 for 100 ml . You can buy it here.
My experience with Bio Bloom After Bath Oil:
Bio Bloom After Bath Oil comes in a plastic bottle with a golden screw cap. It has a plastic enclosing where you will need to put a hole to get the oil out. Depending on how big we put a hole, we can control the amount of oil that comes out. I like this type of packaging for oils as it does not tend to overflow in the sides of the bottle. I would say the packaging is pretty good and spill proof.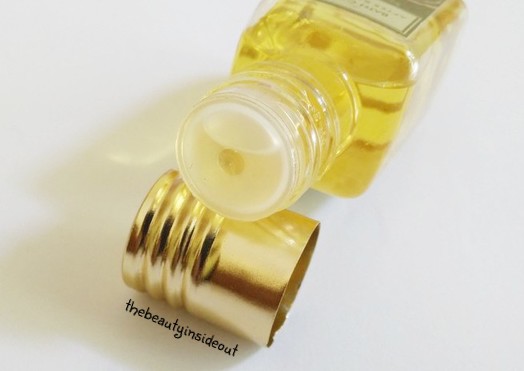 Bio Bloom After Bath Oil has sandalwood and patchouli as its main ingredients with various other oils. Sandalwood oil needs no introduction, it has been used from our traditional ancient times for beauty and other benefits. On the other hand, Patchouli which is an herb from mint family is great for dry skin, anti-aging and has medicinal properties.
The after bath oil has a blend of strong sandalwood oil and musky patchouli oil fragrance that lingers throughout the day. I noticed that if the oil sticks to your clothes, it's going to be there until you wash them. The fragrance is that strong. People around you can definitely smell the fragrance of the bath oil. So the smell can be either a hit or miss. The oil does not stain the clothes but the smell transfers to clothes.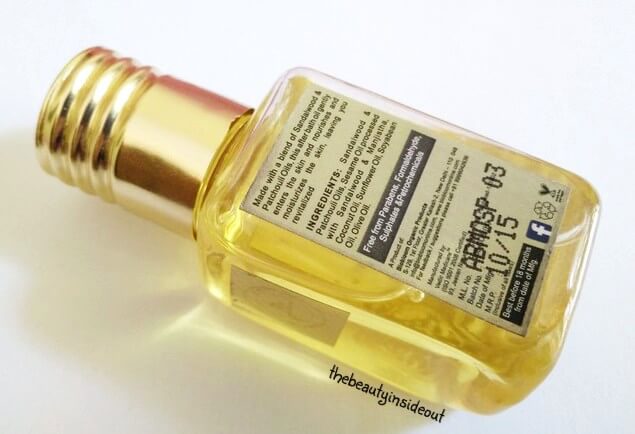 Bio Bloom After Bath Oil has the texture of any other oil and looks golden yellow in color. The oil is neither lightweight nor too heavy, it's in between . As soon as I applied it, I had that slight greasy feeling but that subsides after half an hour. Once it's absorbed into the skin, it does not feel sticky or oily and keeps the skin nourished and moisturized throughout the day. If you can bare that sticky feeling for half an hour, then you are good to go. You will absolutely need no re-application, it's that nourishing and provide intense moisturization. Since I have dry skin all year round, I liked the moisturizing effect this bath oil gave me. However I would not suggest this to oily skin types. And in summers it's an absolute No No. This would be a great after bath oil to try during the winters. This is great to apply during the night as it relaxes the mind from a tiring day and induces sleep.
Pros:
Contains skin nourishing natural oils.
Provides intense moisturization.
Absolutely great for dry skin.
Works great as a night time moisturizer.
No mineral oil.
Free from harmful chemicals, sulphates, parabens, petrochemicals.
Cons:
Availability
Very strong fragrance
Not for oily skin types and hot summers.
Final Word:
I personally liked this bath oil for my dry skin as it serves its purpose of moisturizing and nourishing my skin. It keeps my skin soft and supple throughout the day. If you can bare the smell and have dry skin, do give it a try. It is a good all natural after bath oil with no mineral oil.
Rating: 4.2/ 5
Have you tried Bio Bloom After Bath Oil? What are your thoughts on this bath oil? Share your thoughts in the comments section below.