Scrubbing your skin at least twice a week is essential to get rid of dead skin cells and rejuvenate your skin. I got this AVA Face & Body Scrub in my Fab Bag few days back. After using it for a couple of times, I think I'm ready to review it, so here are my thoughts on it.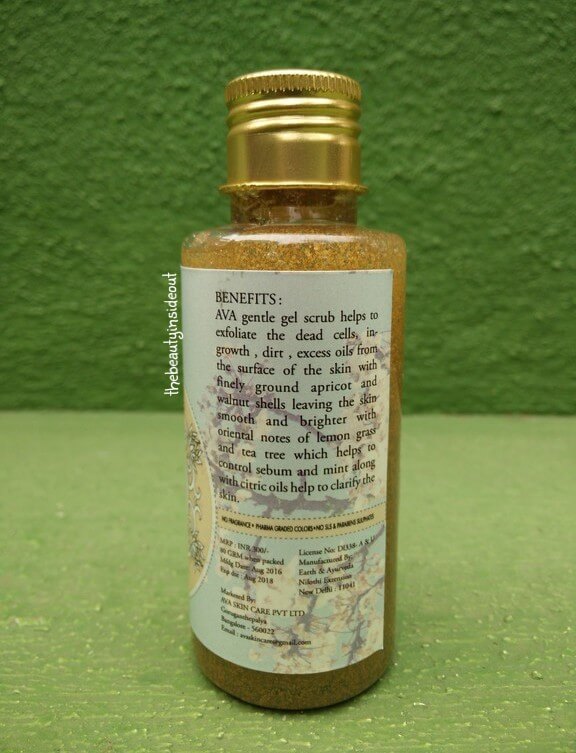 About AVA Face & Body Scrub:
AVA stands for Ayur Veda Aroma. The promise behind AVA is that its made with natural ingredients and uncompromisable quality of organic preservatives and additives required to create a product.
This face and body scrub is from their spring pond collection. It contains Mint and Tea Tree specifically meant for oily skin.
Key ingredients:
Purified water, glycerine, aloevera gel, licorice extract, mulberry extract, ashwagandha extract, mint oil, lemongrass oil, tea tree extract, apricot & walnut scrub, color, base q.s
Price: Rs.300 for 100 gm.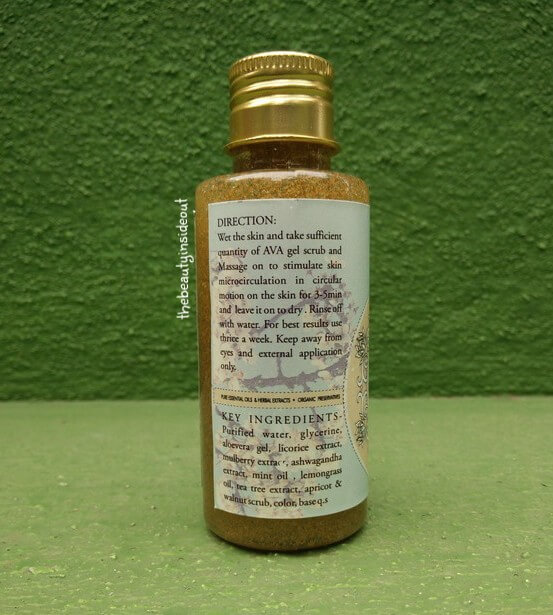 My take on AVA Face & Body Scrub:
The scrub comes in a sturdy plastic bottle with a screw type cap. It has an inner cover which prevents the product from leakage. All in all the bottle is handy and travel friendly. As soon as I opened the bottle, I was bombarded with an amazing fragrance. It is a sweet and citrusy scent which is so nice and pleasant. It reminds me of a sour orange candy I used to have when I was a kid. It's smells exactly like that. Loving the smell so much 🙂 . Sadly it does not linger post washing. The scrub is honey colored and has a jelly kind of gel consistency. It is a very thick scrub. It does not flow out from the bottle even when kept upside down. I had to squeeze the bottle hard to take the product out. A pump dispenser packaging would have been better for this kind of thick scrub. The scrub has tiny orange and green colored particles which must be apricot and walnut granules. They are meant to provide gentle exfoliation. The granules are very mild which works great for the face. But for the body I prefer something coarser. Nevertheless, I like how it works for my face.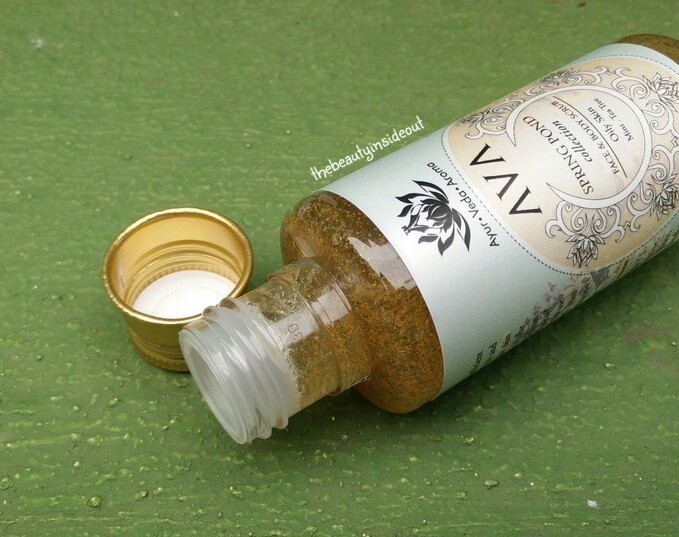 As per the instructions, I took a small quantity and scrubbed my face for 3 minutes and let it dry. I could see that it produces no lather at all, not even a tiny bit which proves it is SLS free as they claim. It rinses off easily leaving no residue or slippery feeling. It gave a slight cooling effect due to the presence of mint. The scrub exfoliates well and removes every trace of dirt, impurities and excess oil. It gives a squeaky clean face. No stretchy feeling or irritation. I felt that it neither dried out nor moisturized my skin. So I followed it up with my Rustic Art Aloe Gel to give some hydration. Oily skin ladies will definitely like this scrub as it contains tea tree which is good for acne prone skin too.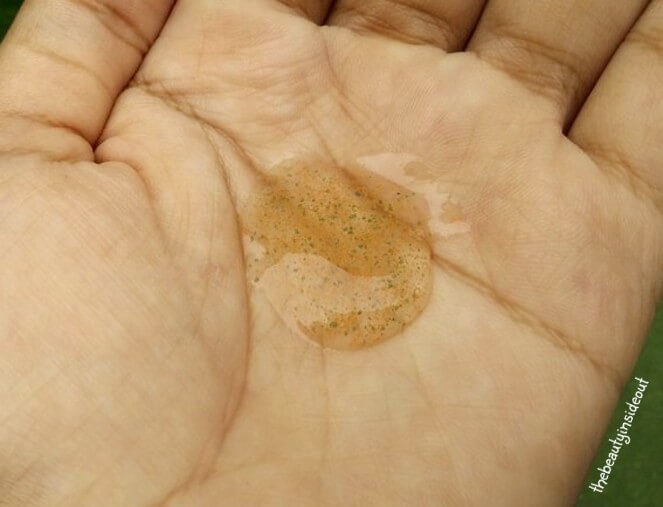 Pros:
Amazing fragrance
Free of SLS, Parabens, Sulphates.
Made of herbal extracts, pure essential oils, organic preservatives.
Cleanses, exfoliates and removes dead skin and impurities efficiently.
Gentle on the skin.
Absolutely zero lather.
Will suit all skin types.
Cons:
A pump dispenser would have been better.
Availability.
Only key ingredients is mentioned.
Mild as a body scrub.
Rating: 4/5
Overall, AVA Face & Body Scrub is a good face scrub that exfoliates the skin gently and gives a clean fresh face. It smells lovely, does not lather and controls sebum effectively. Ladies with oily skin can give it a try.
I hope you find this review helpful. Have you tried AVA Face & Body Scrub? Share your thoughts in the comments section below. See you in my next post.
Stay Beautiful ♥