For me winter is all about dryness. Yes my hair, lips, body and weirdly even my oily facial skin becomes dry during the winters. That's why when winter arrives I resort to anything labelled moisturizing and stock them up. My dry body skin loves to be treated with heavy duty butters and today I'll be talking about a body butter that I have been using for the past couple of days – The Aroma Essentials Rose Geranium Body Butter.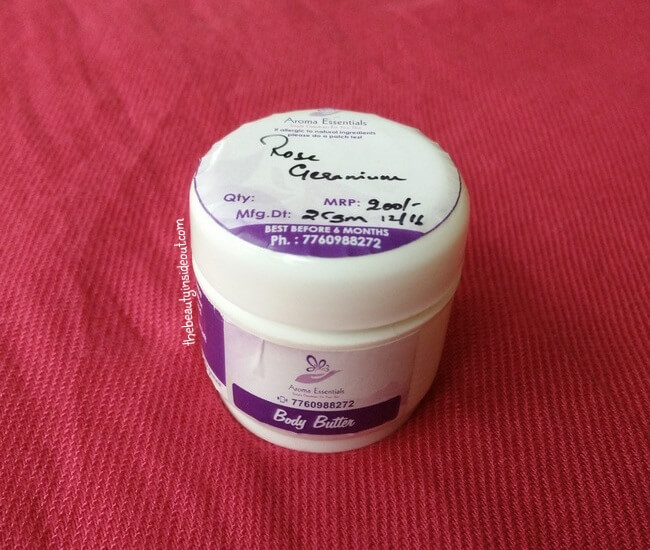 Functions: Smoothens damaged skin cells, retires moisture and nourishes the skin.
Ingredients: Cocoa Butter, Soya, Kokum Butter, Mango & Shea Butter
Directions for use: Apply liberally all over the body & massage gently, can be left overnight.
Price: Rs.200 for 25 gm
Shelf Life: 6 months
Availability: Available through their What's Up number Or Facebook Page.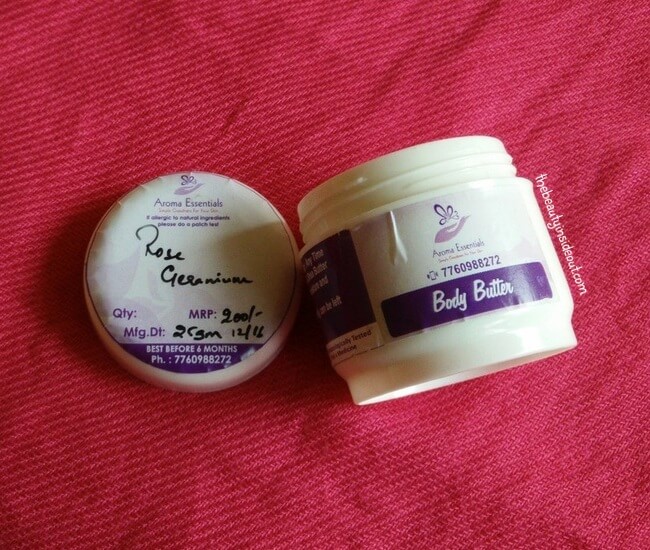 My take on Aroma Essentials Rose Geranium Body Butter :
The body butter comes in an opaque white plastic tub which is travel friendly. I do have some hygiene issues with the tub but anyway I've never seen a body butter come in a tube. Necessary informations about the body butter are mentioned on the packing, be it the mfg date or ingredients or price.
The body butter has a floral fragrance of fresh roses with a hint of geranium. I love the scent; it's mild, divine and irresistible. The scent does linger for a few hours after application but you could detect it only if you sniff your skin where you applied it. So it might not disturb the person next to you 😉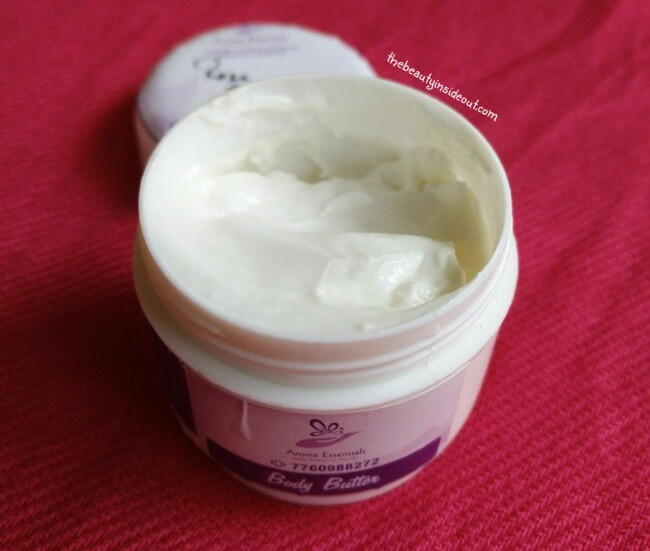 Aroma Essentials Rose Geranium Body Butter is milky white in color and has a rich whipped cream consistency. It glides onto the skin very easily and blends in like a dream. Unlike some body butters, I didn't need to massage it for a long time. It hardly takes 5 seconds to apply this butter and I'm good to go. It completely seeps into the skin the moment I apply it and I'm left with a highly nourished and moisturized skin. The skin does not show any sign of greasiness or oiliness instead my skin feels buttery smooth and supple.
On my extra dry skin, the moisturizing effect stayed for a maximum of 5 hours after which I had the need to re-apply it. On the other hand, ladies with oily and normal skin types can easily skip reapplication. I could notice that if applied immediately after a shower on damp skin, the body butter locks in extra moisture and extends the time of re-application. I needed only a tiny amount of the fluffy body butter each time, so the tiny 25 gm tub lasted me around 15 days when used on my hands and arms.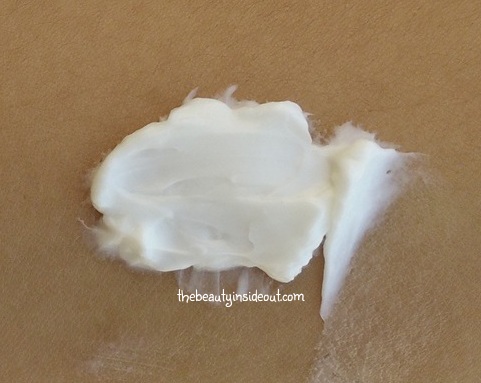 Pros:
Made without harmful chemicals.
Rich whipped cream consistency that spreads easily.
Non-bothering floral fragrance.
Sinks into the skin very fast.
Nourishes and moisturizes the skin efficiently.
Best suited for oily and normal skin types.
Not tested on animals.
Cons:
Available only online.
Some might find it pricey.
Rating: 4/5
In short, Aroma Essentials Rose Geranium Body Butter is a nourishing body butter that is crafted with highly moisturizing Cocoa, Shea, Kokum and Mango Butters. It heals rough dry skin making it soft, supple and hydrated. I would recommend this body butter to be used in any season for oily and normal skin types. Dry skin ladies may try it during the summers or if you don't mind re-application and prefer natural products, you may try it in the winters too.
So that's all about Aroma Essentials Rose Geranium Body Butter. Have you tried this? Share your thoughts in the comments section below.
Also check out
Until Next Time,
Stay Beautiful♥