I've been exploring Aroma Essentials products from quite sometime and I must say that they are too good to be ignored. Though I've loved most of the products I tried, here comes a product that I would give it a miss. Not because it doesn't do its work, but for other reasons. Read on to know my experience with the Aroma Essentials Choco Coffee Soap.
First of all, there is no details about the product except for the price, quantity and mfg date and it came wrapped in a plastic polyethene sheet. I always expect to see the ingredient list on the packaging. So a minus for me. It retails for 250 INR for 120 gm and all Aroma Essentials products have a shelf life of 6 months, so I believe it applies for this too. Nothing is mentioned on the packing!
As you might know, I expect only two things from a soap: Cleansing ability and Fragrance. Yeah fragrance, not an artificial one but something natural, soothing and refreshing to my senses. That's why I was really excited when I got this Choco coffee soap.(P.S I won the product in a giveaway) I was like ' Wow it's made of Chocolate and Coffee and is sure going to have an amazing fragrance'. But I was highly disappointed. It smells nothing like Chocolate or Coffee 🙁 I can't relate the scent to anything in particular. It's not unpleasant as such, but I didn't like it. And sadly the fragrance stays for sometime post washing.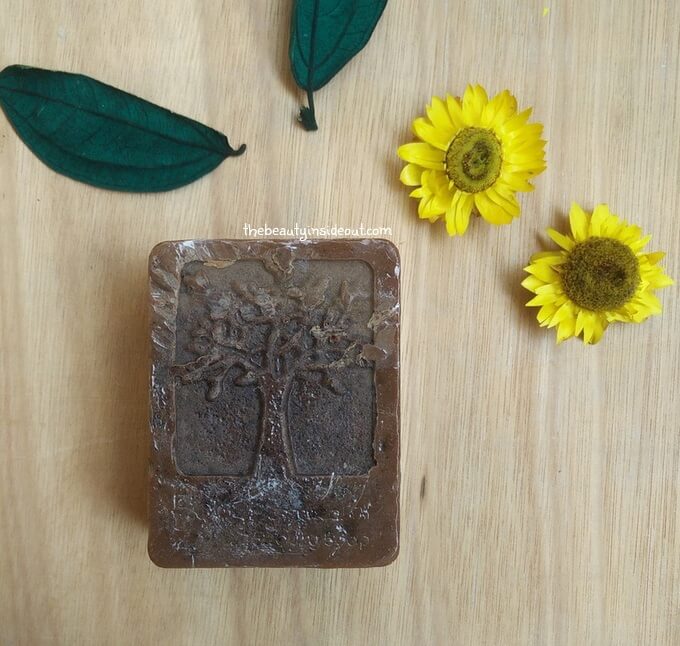 The look of the soap; it has three partitions, top part – a thin creamy layer which is light brown in color, bottom part – is dark brown and has a tree imprint which acts as an exfoliant. The middle portion is dark brown as well but it is less creamier with tiny particles. Sorry I missed clicking a picture of it. Basically one side you get a creamy lather and the other side you get the glycerine soap kind of airy lather. No matter what, the soap lathers effortlessly and rinses off easily without leaving any residue behind. As for the cleansing part, it does its job really well, leaves the skin clean and fresh. It neither causes dryness or itchiness. Well it's handmade. It does not melt crazily and the soap lasts for a good time. However I've used much better handmade soaps than this and Aroma Essentials Choco Coffee Soap failed to melt my heart.
Pros:
Trustworthy brand.
Handmade.
Lathers effortlessly.
Cleanses the skin without drying.
Does not melt away easily.
Cons:
No chocolate or coffee scent.
No ingredient list mentioned.
Availability.
Rating: 3/5
That was all about Aroma Essentials Chico Coffee Soap. Have you tried them? Share your thoughts in the comments section below.
Also check out
Until next time,
Stay Beautiful♥