With the wedding season up on full swing, flaunting a glowing flawless skin is what everyone craves for. Facials are great to achieve that in short duration. I solely believe that rather than the products itself, it is the massaging techniques that gives the desirable results. Still picking a proper facial kit is necessary. After having good experience with the VLCC Anti-Tan Facial Kit, I decided to get two more kits from the same brand as I was having two weddings to attend in two months. So I had used the newly launched VLCC Ayurveda Facial Kit a few days ago and let me share my thoughts on it first.
Before going into the review of the facial kit, I wanted to talk about my experience of ordering the product from the official VLCC website.
My experience with VLCC Website:
When I decided to buy the VLCC Ayurveda Facial Kit, I had no other go but to order it from their website as it wasn't yet available on other websites and I was too lazy to go out to any VLCC counters to get it. I regret for that, I should have just gone to the Health and Glow Center which is a 5 minute walk from my home and got the job done easily. My laziness, I ordered it online. Not only they have too many offers almost all the time, which makes one easily fall for them easily. And yes I got this product at 30% OFF, along with a free face wash. Who wouldn't be tempted to buy from them.
This is the second time, I'm ordering from their website. Earlier I bought their new VLCC Ayurveda Face Washes which I received it after 10 days with no issues. Usually when you buy products from a brands website, they send it to you at the earliest. I have had good experiences of receiving products in 1-3 days when ordering from Bon organics and Kama Ayurveda which set my expectations high. But I'll have to be honest, VLCC's Service was Dud. I ordered the product on 13th October and received it last week, after about 25 days. That too, I had contacted them through their Facebook page, only after that they had even shipped the product. You could see many complaints on their Facebook page regarding product delivery.
So if you are thinking of buying from their website, I would ask you to reconsider that. Better get it from stores directly or go buy it from Amazon or Nykaa. The most annoying part be ready to receive spam messages everyday (2 to 5) on the mobile number you choose to give while ordering the product. I'm in no way against them, but I'm really not happy with them. As a brand, I like their products but their service is really poor. I hope they take some serious measures in order to retain customers.
VLCC Ayurveda Facial Kit Review:
Moving onto the product, VLCC Ayurveda Facial Kit is available in 4 variants just like their face washes.
Double Neem
Chandan & Kesar
Haldi & Chandan
Haldi & Tulsi
I wanted to get the Haldi & Chandan Facial Kit as I liked their face wash, but that was out of stock at that time. So I chose the Chandan & Kesar which is catered to bring out the natural fairness. I'm in no way endorsing fairness and I just bought this variant impulsively.
Price: 200 INR
Ingredients: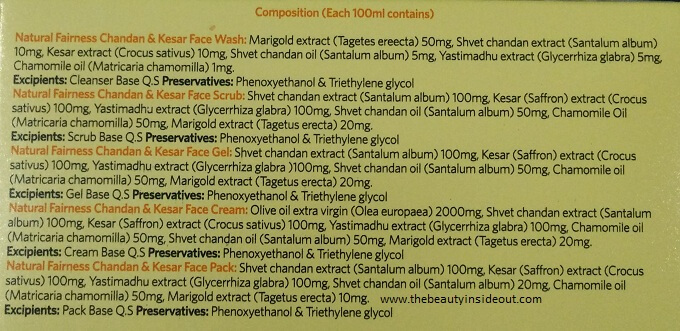 Steps to use VLCC Ayurveda Facial Kit:

Packaging: A big applause for the packaging. Finally they have decided to make some changes in this aspect. Unlike other VLCC Facial Kits, these come in tiny tube forms which are super convenient to use, hygienic and easier to store. All 5 tubes come fitted in a plastic stand, which is neatly placed inside the card box. The card box by itself looks attractive with an orange hue. Details about the steps to be followed and ingredients that go inside each tube is mentioned on the card box. This facial kit is travel friendly too, you can just separate the tubes from the box and throw in the tubes in your bag. You don't even have to worry about finding the order of using them as they clearly numbered the tubes. So its easier to find which one has to go first and so forth.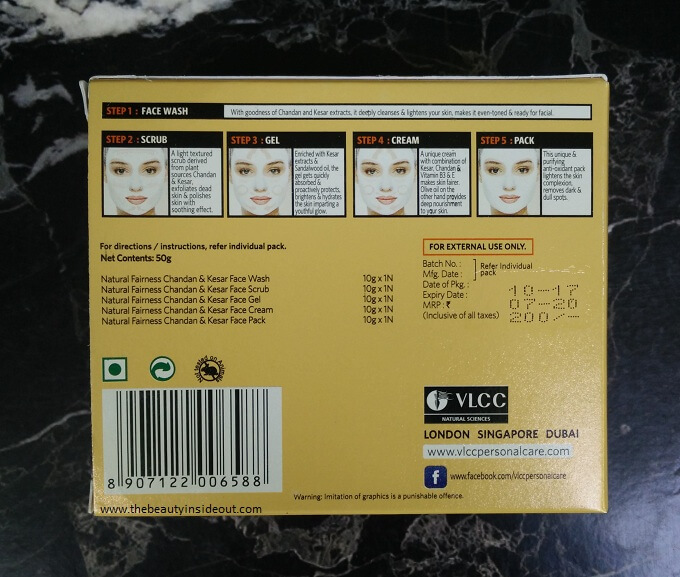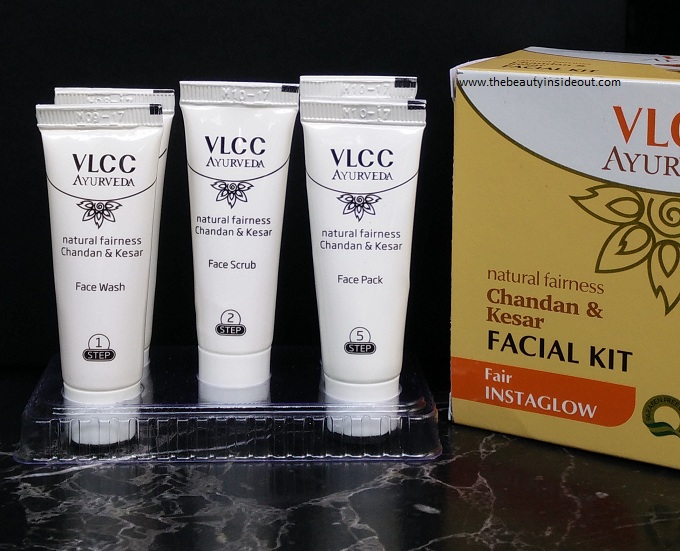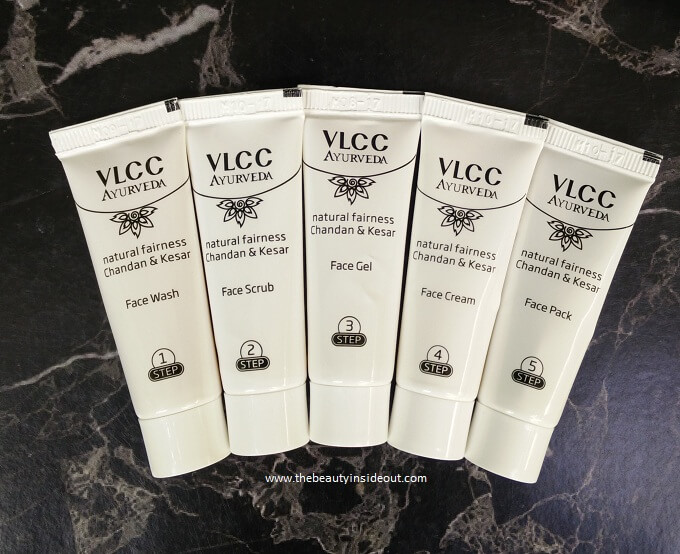 Coming to my experience with the facial kit. This kit has 5 steps.
1.VLCC Ayurveda Chandan &Kesar Face Wash
This is the first step which preps the skin for the facial session. This is the same face wash that I reviewed earlier which is available as a full size product. It is a gel based face wash that cleanses the skin without overly drying the skin. It gives a clean and fresh face. The fragrance is a bit overpowering to my liking, but thankfully it does not linger post cleansing.
2.VLCC Ayurveda Face Scrub
The second step is scrubbing. This is a colorless scrub with tiny particles in it. Since they are sparsely packed and not the nutty types, they are mild on the skin and do not feel scratchy or harsh on the skin. It exfoliates well while deeply cleaning the pores. The fragrance is similar to the face wash, which smells like Chandan & Kesar.
3.VLCC Ayurveda Face Gel
This is a pale orange colored gel that has to be massaged on the skin post scrubbing. I take a dollup and massage it on my skin. It absorbs quickly and leaves my skin as if I had moisturized my skin. You need not wash your skin post this step. So I think this is a moisturizer kind of product. This gel has a faint scent which is non-bothering and to my preference.
4.VLCC Ayurveda Face Cream
Massaging is the most important step. For that we need a good massage cream. This cream has a creamy-oily consistency which is apt for massaging. I took a dollup and started massaging in upward direction. The amount of time you are going to spend massaging and the technique used for massaging is going to be directly proportional to the outcome. So spend some good 15-20 minutes for this step. If you are tired massaging. Have someone in your home do it for you. Massaging increases blood circulation, which promotes healthy skin. After massaging, I take warm wet cloth/towel and wipe of the massage cream. Post this step, I could notice a visible difference in my skin. It looked more cleaner and healthier.
5.VLCC Ayurveda Face Pack
The last step is a face pack. For best results, you could use a steamer and steam your facial skin before applying the face pack. The face pack is a white creamy lotion. I expected this to be Multani Mitti kind of pack because that's how most packs are. But then it is a cream. It just took a dollup and apply it all over my face and neck. I could feel a tingling sensation around my nose area, though its bearable. The pack dries in about 10-15 minutes. I then rinsed it off with water and pat my skin dry. Post face packing, there was a noticeable brightness and glow on my skin. However, my skin felt a bit dry. I followed up with a toner and a sunscreen lotion.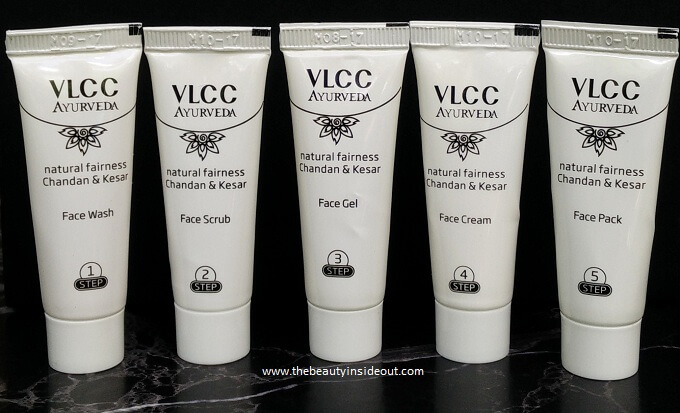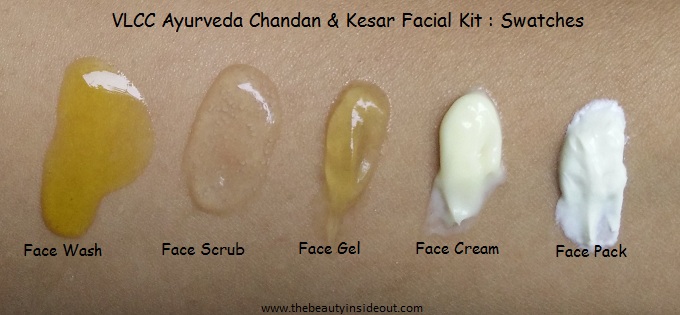 Result: I'm truly impressed. My skin was glowing with significant brightness. My skin tone was a lot more even and healthy looking. The facial effect lasted on me for 4 days which is pretty good. None of the products irritated my skin or caused any allergies. Though it did not have any effect on my acne, it did not aggravate them either.
I found using the face gel as a third step to be unnecessary as it didn't serve any purpose. They could have replaced that for a moisturizing sunscreen lotion to be used at the end.
One should note that it is highly recommended not to go out under sunlight for the next 24 hours post facial. Applying a sunscreen is mandatory even if you stay indoors during the day for the facial effect to last longer and to avoid reverse effect of skin darkening.
Pros:
Great packaging.
Affordable.
Proper indications on usage is given.
Suitable for all skin types.
Gives desirable results.
Brightens up and makes skin glowy.
Effect lasts for 3-4 days.
This single kit will last for 2-3 uses.
Cons:
Not completely chemical free.
Face gel could have been replaced with a sunscreen gel.
Rating: 4.7/5
Do I recommend? Yes, VLCC Ayurveda Facial Kit is a good facial kit that gives you a visibly brightened skin. It is also the most affordable VLCC Facial Kit, so why not. I would definitely recommend giving it a try.