Sunscreen is the key to skincare. It's safe to say if you are not using sunscreen then there is no point in using any actives and imported serums. But here comes the tricky part. Finding a sunscreen you can halfway tolerate is tough. And for a college-going broke girl like me, it's a dream. While one seems to be greasy & oily, the other gives you a horrible white cast or is too expensive. Indian market doesn't leave us with enough choice, to begin with. Most of them are imported and are crazy expensive for a 50 ml bottle which is going to last for 20 to 30 days maximum. So when I find any new affordable sunscreens, I know in my guts that I have to try them. The Blessing Tree Sunscreen isn't any exception. Read on to know if this is really worth the hype.
Product Description:
The Blessing Tree Sunscreen is a broad-spectrum sunscreen with an air-light texture. It is formulated to give you full protection from the sun for 6 hours. However, we recommend reapplying every two hours.
Ingredients: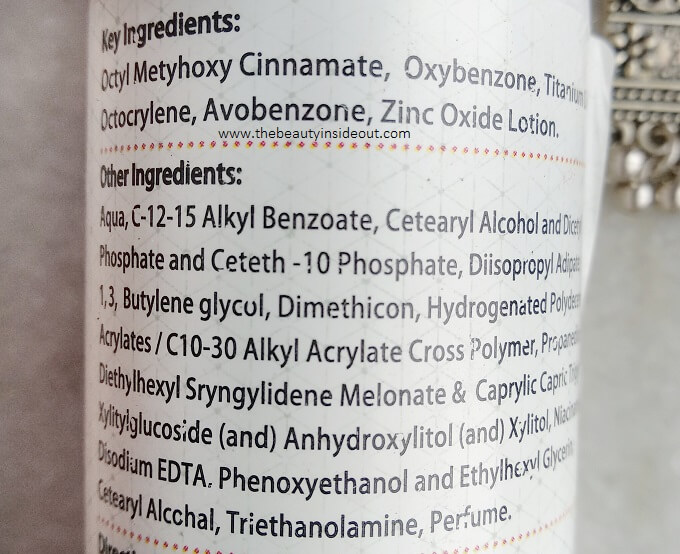 Price: Rs. 199 for 100 ml
The Blessing Tree Sunscreen Review
Packaging: The Blessing Tree Sunscreen comes in a sleek plastic bottle with an air-tight pump dispenser. The white & yellow label adds detailing to the bottle which I very much like. It's travel-friendly, that is, it doesn't spill or leak. And it's very convenient to use.
Texture: The Blessing Tree Sunscreen is a smooth white lotion-like product. It spreads well on dry skin and doesn't feel drying on the skin. It gives me an even-toned look that actually feels like a primer. The foundation goes beautifully on top of this and my pores actually looked kind of blurred out. I can also apply the 3 finger sunscreen rule with this one without feeling being heavy on the skin.
Fragrance: Well, this has a chemical glue smell which I am not really a fan of. It does go away the minute I put it on my face, so I'm not complaining. But if you are particularly sensitive to fragrances, you might want to avoid this one.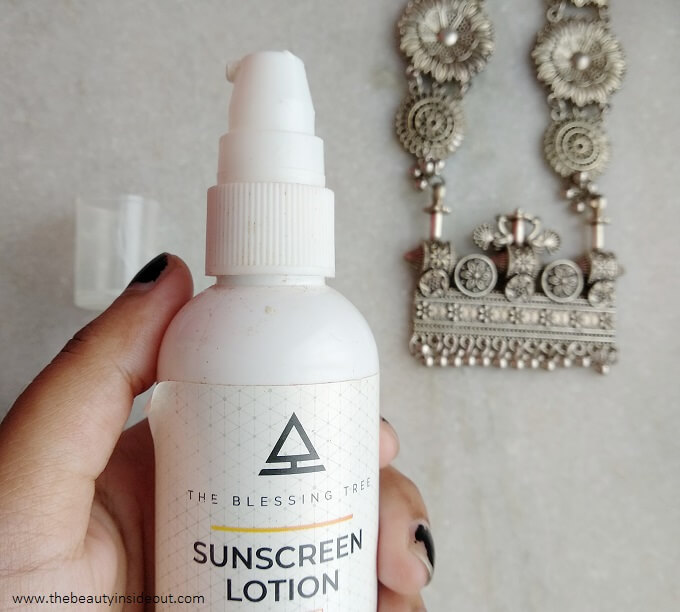 My Experience:
This is a highly raved affordable sunscreen in India. It is a very good sunscreen, but it's just not for me. Okay let me elaborate, it spreads seamlessly and sinks in within 30 seconds of application. It forms a uniform protective layer giving a good matte finish. My skin doesn't feel heavy at all. It is as light as air as it gives a second-skin-like feel, which means, I don't feel like I am wearing sunscreen. It provides broad-spectrum protection with both Long UVA and UVB blocking ingredients. This sunscreen is truly lightweight and has one of the best textures to work with. It doesn't leave any white cast too.
But on the downside, this sunscreen, unfortunately, broke me out. I believe it's due to the Cetyl Alcohol which I'm allergic to. It left me with painful pustules on my chin area. Also, the sunscreen burnt my eyes so horribly that I had to take a crying break. However, it works well under makeup and doesn't pill. I used this as an indoor sunscreen only, but I can say that I was so ever slightly tanned at the end of the day. As I said, it's a very good sunscreen but you have to take precautions. If you have no idea which ingredients you are allergic to, then please do a patch test before trying.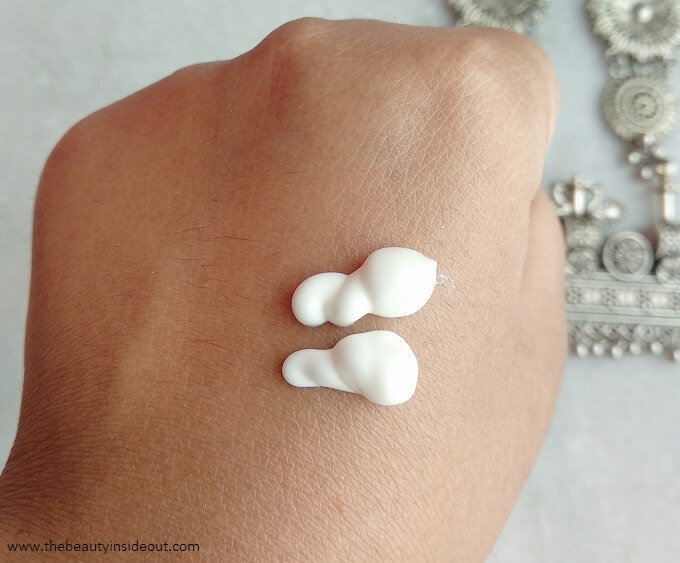 Pros:
Very affordable.
Perfect texture.
Blends like a dream.
Gives a true matte finish.
Have broad spectrum protection.
No white cast at all.
Doesn't feel greasy heavy or oily.
3 finger rule can be used without worry.
Cons:
Bad fragrance.
Burns my eyes.
Broke me out.
Slightly tanned my skin at the end of the day.
Rating: 3/5
Would I recommend it? This is surely a hit-or-miss product. If you are not prone to acne, then you can try this product. It has the potential to become one's holy grain sunscreen due to its amazing texture. Sadly this is not my favorite.