Cipla launched a new brand under its radar called Rivela Dermascience. The brand claims to bring together the power of Science and Dermatology with its science-backed skincare products. Developed by scientists and evaluated by dermatologists, Rivela Dermascience products are specifically tested on Indian skin by leading labs in the country for their efficacy & safety against any reactions, allergies, or inflammations. Their products are 100% Cruelty-free, Non-toxic, and free from parabens, SLS, mineral oils, or other harmful chemicals – bringing you safe and clean skincare. I picked up two products from the brand- the Cipla Rivela Sunscreen and the Vitamin C Serum. Here are my thoughts on sunscreen.
Product Description:
Cipla Rivela SPF 50 PA+++ is a broadspectrum hybrid sunscreen lotion that protects your skin against the aging UVA and burning UVB rays of the sun. Formulated with a chemical filter – Tinosorb M which provides broad spectrum UV protection basis its micro-fine organic particle technology. It also contains mineral filters Zinc Oxide and Titanium Dioxide to prevent long-term sun damage.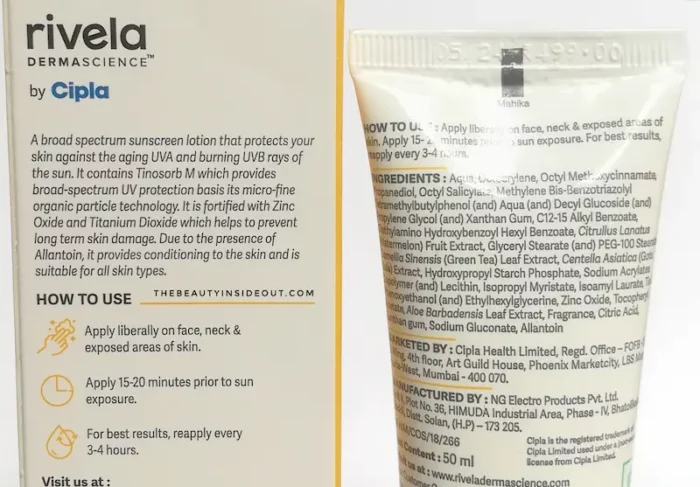 Cipla Rivela Dermascience Sunscreen Ingredients: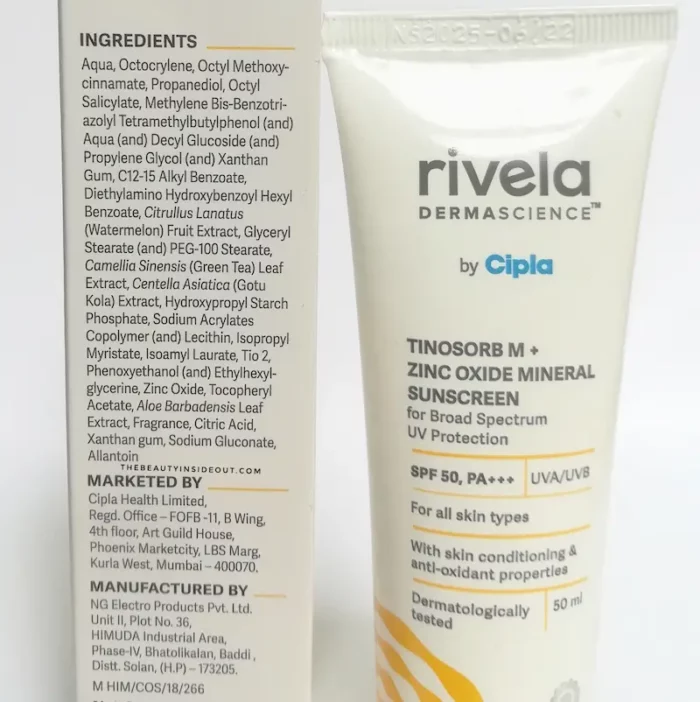 Sunscreen UV Filters:
Uvinul A Plus – new generation chemical UV filter. Provides broad spectrum UVA and UVB protection. Highly photostable.
Tinosorb M – new generation chemical UV filter. Offers high UVA protection and is highly photostable.
Octocrylene – UVB and somewhat UVA II protection.
Octyl Salicylate – UVB protection.
Octyl methoxycinnamate – UVB protection.
Zinc Oxide – mineral filters offer UVA and UVB protection.
Other great ingredients:
Watermelon Fruit Extract – is rich in antioxidants and protects against UV damage.
Green Tea Extract – is an antioxidant, anti-inflammatory, anti-microbial, anti-cancerous, and UV protectant.
Centella Asiatic Extract – anti-inflammatory ingredients, that soothes and calm skin.
Aloe Vera Extract – emollient, calming, cooling, and soothing ingredient.
Allantoin – skin soothing, softening, and healing properties.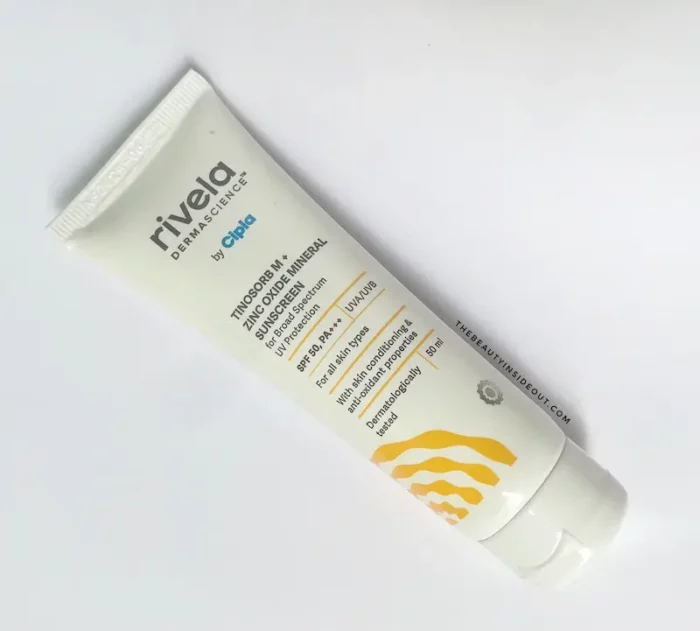 Cipla Rivela Dermascience Sunscreen Review
Packaging: The Rivela Sunscreen comes in user-friendly, travel-friendly compact tube packaging. It has a flip cap opening that opens to a small opening through which the product comes out. It's quite easy and fuss-free to use and store. The tube came housed in a card box which has all the relevant details about the product.
Color & Texture: This is a non-tinted milky white sunscreen with a smooth runny consistency. It's quite thin in texture and spreads easily.
Fragrance: The sunscreen has a pleasant floral scent. I usually have an aversion to strong scents. This one is very subtle and totally non-bothering to me. The scent resonates with the scent of many pharmacy sunscreens.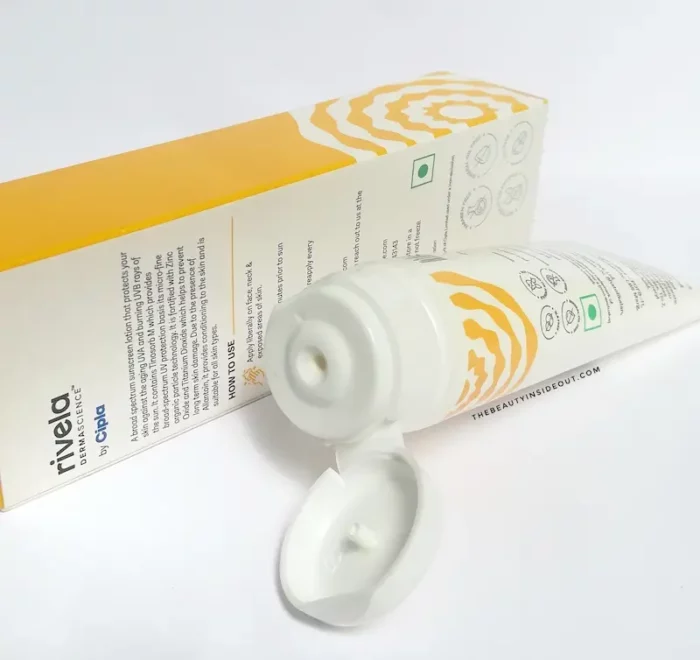 My take on the Cipla Rivela Sunscreen:
Sunscreens play a vital role in any skincare routine. Using all the great products to help with acne and aging skin without using sunscreen can never give fruitful results. So I've always looked for the best sunscreen out there. I came across this new sunscreen. Since it's from a reputed pharmaceutical brand recommended by dermatologists, I went ahead and bought it.
My first thoughts: The name of the product can be misleading especially to someone who is new to skincare and ingredients.
This is a Tinosorb M and Zinc Oxide Mineral Sunscreen, where Tinosorb M is a chemical UV filter. A new skincare user might totally miss out on that and might deduce that it's a mineral sunscreen. The Rivela Dermascience Sunscreen is a hybrid sunscreen with both chemical and physical filters.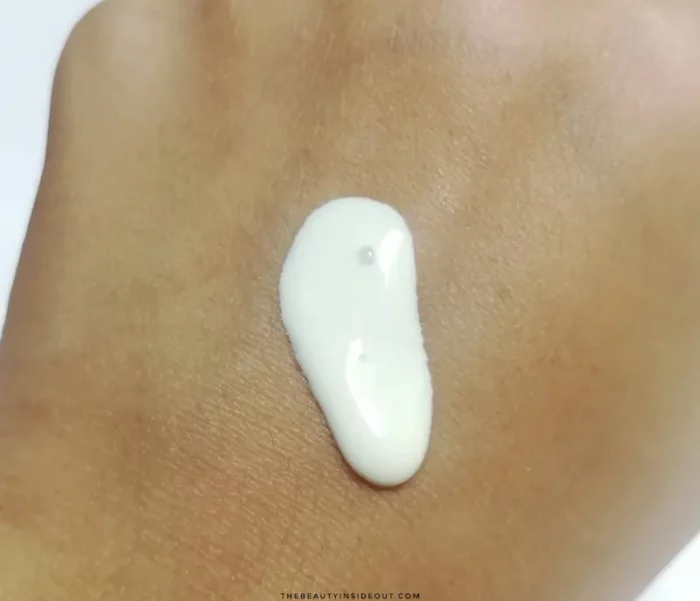 Coming to the performance:
How do I apply?
Its runny texture makes application easy. I usually take a big blob of the sunscreen that's sufficient to cover the full face and apply it in sections, blending it until there is no trace of it.
Skin feel?
It's a very comfortable sunscreen that feels like you have nothing on – though it does look shiny. If the sunscreen is used on it, right after cleansing without any other products, it's moisturizing enough on my T-zone, but my cheeks tend to get dry as time passes. Using a hydrating toner underneath works for me.
Finish?
It gives a dewy finish that can be a little too shiny for oily skin folks. On my combination skin, I liked to use it without setting it with a powder.
Does it leave any cast?
It's a white lotion but blends beautifully into the skin without leaving any white cast on my medium to fair skin tone. It didn't have any initial white cast on me. But then I blend it into sections.
If you apply it in one go – it might have an initial white cast. After all, it's a white lotion as mentioned earlier.
Is it waterproof?
It's not water-resistant or sweat-proof. If you pour water or sweat immediately after application, you can see the white lotion running down.
Does it sting the eyes?
Yes and no. The sunscreen didn't sting my eyes when I applied it near my eye contours. But when I sweat and accidentally rub it near my eyes, it stung a little.
Protection?
I've used this for about 3 weeks and the weather is quite hot in my place. I tested it both indoors and for outdoor usage, and I can say that I didn't tan or burn easily. I felt my skin was protected well from harsh sun rays. And considering the strong UV filters, It gives good sun protection.
Is it easy to remove?
Yes. Double cleansing is ideal for any sunscreen. But I could get away with a single cleanse. The sunscreen is not silicone based and gets washed off easily with a good foaming face wash.
Overall, it's a great sunscreen for perfect sun protection.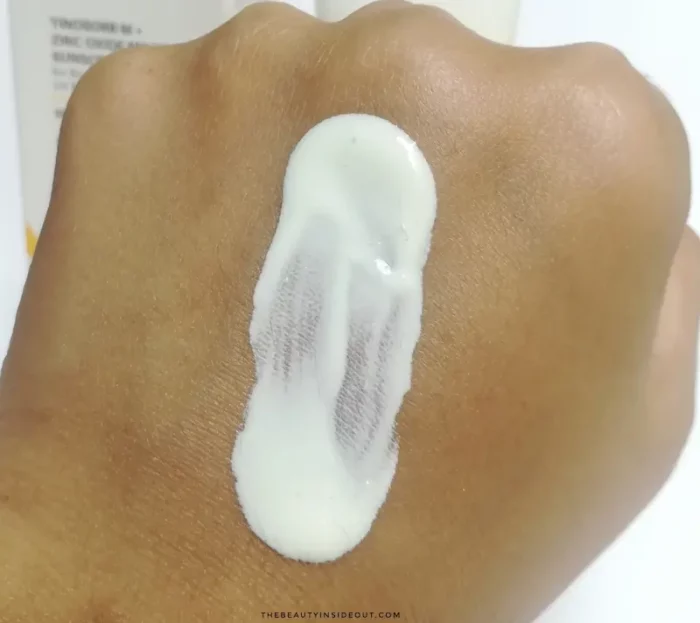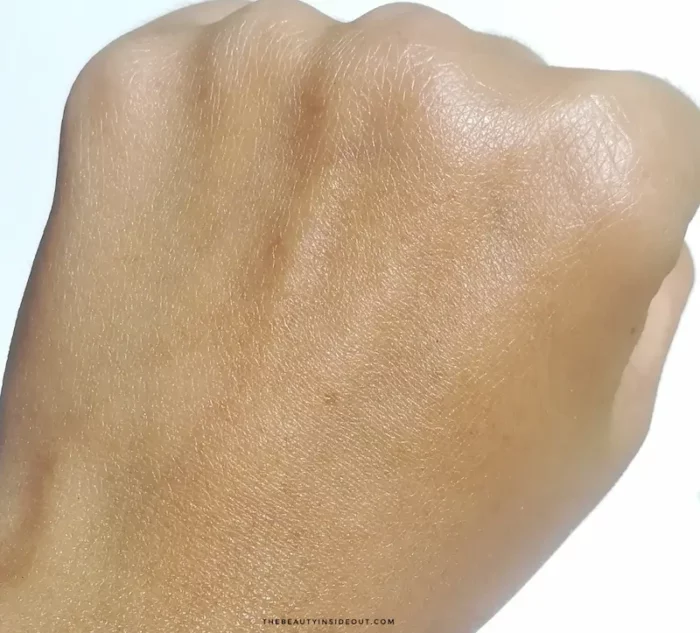 Pros:
Contains great ingredients including new-generation UV filters and antioxidants.
Offers SPF 50 PA+++ UVA and UVB protection.
Light lotion sunscreen spreads easily.
Blends into a dewy finish with no white cast.
Paraben free, SLS free, Mineral Oil Free.
Dermatologically Tested.
Good pricing.
Best for normal to dry skin.
Cons:
Not water resistant.
Can sting the eyes sometimes.
Dewy finish can be too shiny for some
Rating: 4.2/5
Would I recommend it? Absolutely, it's got new generation UV filters, rich in antioxidants, and is often available at a great price point. Unless you are not a fan of a dewy finish, I'd highly recommend giving it a try. It can be used by all skin types.
What do you think of the Cipla Rivela Sunscreen? Do you find them interesting? Let us know if you would want us to try any of the products from the brand and share our reviews. We would be glad to try them out.