Hello everyone. Today I am going to review about Just Herbs Nosun jojoba wheatgerm moisturising sun protection gel with green tea & grapeseed. I got a sample of this sun protection gel in the 6 step skin care kit for oily normal skin. Since then I have been hooked onto this product that I purchased the full size product. Let's get into the review.
Product Description:
Just Herbs Nosun Jojoba Wheatgerm Moisturising Sun protection Gel is a multitasking sun protection gel enriched with Jojoba, Wheatgerm and Grape-seed oil along with Green tea extract and Aloe Vera. With its built in UV protection and age control micro-nutrients, it effectively replenishes skin's lost moisture and forms a protective barrier to UV rays to prevent sun spots, freckles and sun induced wrinkles.
2-in-1 action: Moisturizes and protects from the Sun
With Shea Butter, Zinc Oxide and certified organic Aloe Vera
Specially formulated for Normal to oily skin
Ingredients: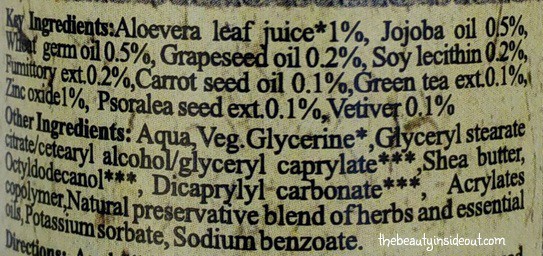 Price & Quantity: Rs.445 for 100 ml
Shelf life: 3 years. Best used within 6 months from opening.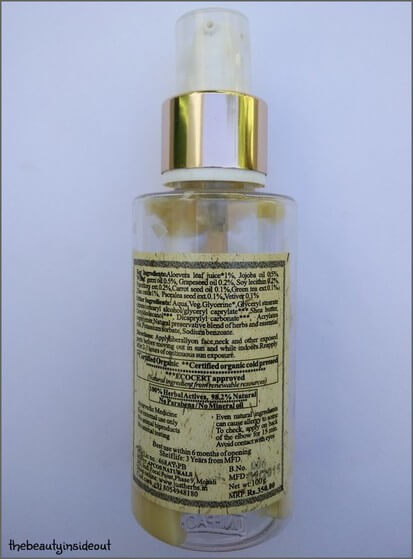 My experience with Just Herbs Nosun Jojoba Wheatgerm Moisturising Sun Protection Gel:
The sun gel comes in a handy plastic bottle with a pump dispenser. The transparent packaging makes it easy to see how much product is still left. The pump dispenses a decent amount and hence there is no product wastage. I found it difficult to get the product out once it reaches half of the bottle as the pump stops working .The gel has a mild herbal smell which is pleasant and fades away once applied. The sun gel is pale yellow in color and has a medium gel consistency that is neither too runny nor too thick. I use 2 pumps for my entire face and neck. It spreads easily and gets absorbed quickly without leaving any greasy or sticky feeling. I like that it is very lightweight on the skin.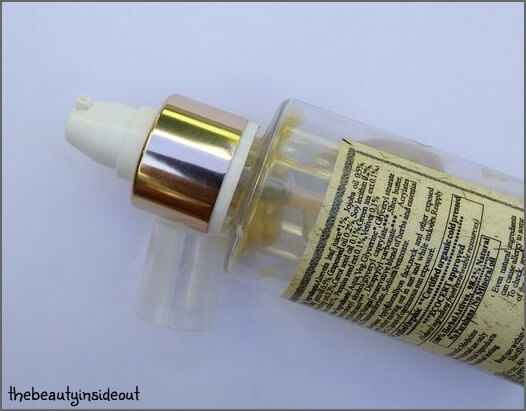 I have been using it for three months now and it didn't break me out even once. So I would say it is suitable for acne prone skin. I usually skip a moisturizer whenever I'm using this sunscreen as the gel is quite moisturizing on its own. This gel would benefit even those with dry skin. It is a good moisturizer plus sunscreen.The gel did not leave any white cast on my skin and it can be very well applied under makeup. There is no SPF mentioned, however sunscreens are best to be re-applied every 2 to 3 hours for their effective functioning which I feel lazy to do sometimes.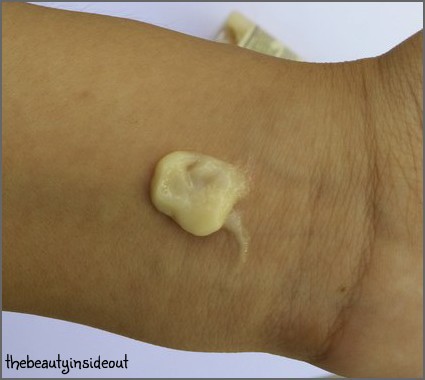 Coming to the sun protection factor, this gel did protect my skin from sun tanning and sun burns during the entire period I was using it. The sun gel claims to be 92.8% natural with no parabens and no mineral oil which is far better than those sunscreens with loads of chemicals.
Pros:
Natural Sunscreen.
Oil-free formula and lightweight on the skin.
2 in 1 product. Moisturizes as well as gives sun protection.
Spreads and absorbs easily without greasiness.
Does not leave any white cast.
Perfect for combination oily skin types.
Free from petrochemicals, parabens, SLS/SLES, PEG/PPG, Genetically Modified ingredients(GMO) and other synthetic ingredients.
Cruelty free.
Cons:
Pump stops working once the product reaches half of the bottle.
Pricey. They have hiked the price from Rs.350 to Rs.445 now.
No SPF factor mentioned.
Final Word:
I absolutely love it. It is good natural sunscreen that is very lightweight and non-oily on the skin which is best suited for combination oily skin types. If you are into natural products, you'll definitely like it.
Rating: 4.6/5
Have you tried Just Herbs Nosun Jojoba Wheatgerm Moisturising Sun Protection Gel? If yes , share your thoughts on it in the comments section below.