Korean Beauty is all the rage right now and the new "It" of skincare. What with Korean 7 steps and 10 steps skin routine, Korean products have flooded the Indian market and taken it up by storm. Korean products are claimed to be the best commercial skincare products formulation vise and ingredients vise. You could never imagine snake venom, bee sting, snail mucous or even bamboo gel or lotus gel in skincare, but there you have it, and if you can muster up the courage to apply such products, they may do wonders! Korean products are formulated with inputs of lot many dermatologists and skin technicians; hence they have made innovative skin products with wide range and they do work if not harm your skin. I also jumped on the Korean bandwagon and bought It's Skin Green Tea Watery Emulsion, lets see what the product has to offer us.
Product Description:
Ok "skin" word has been used lot many times and much of the product description went over my head, but I think it basically says that it is a water-based emulsion for light hydration. Well, never read much into Korean product description, you will be playing a game that already has been lost, just lookout for ingredients and directions.
Ingredients: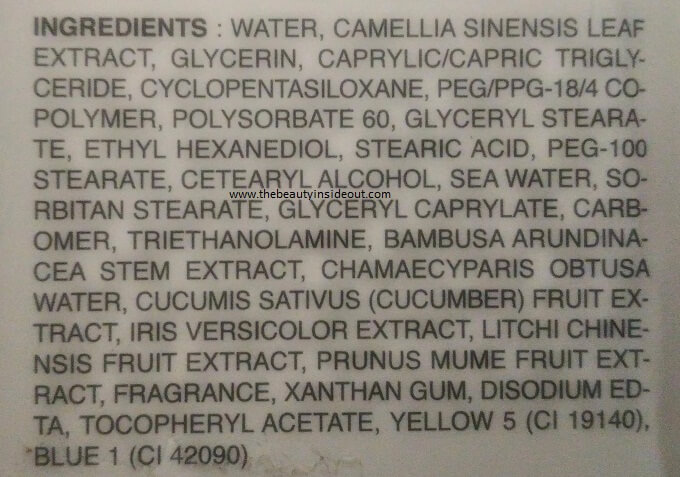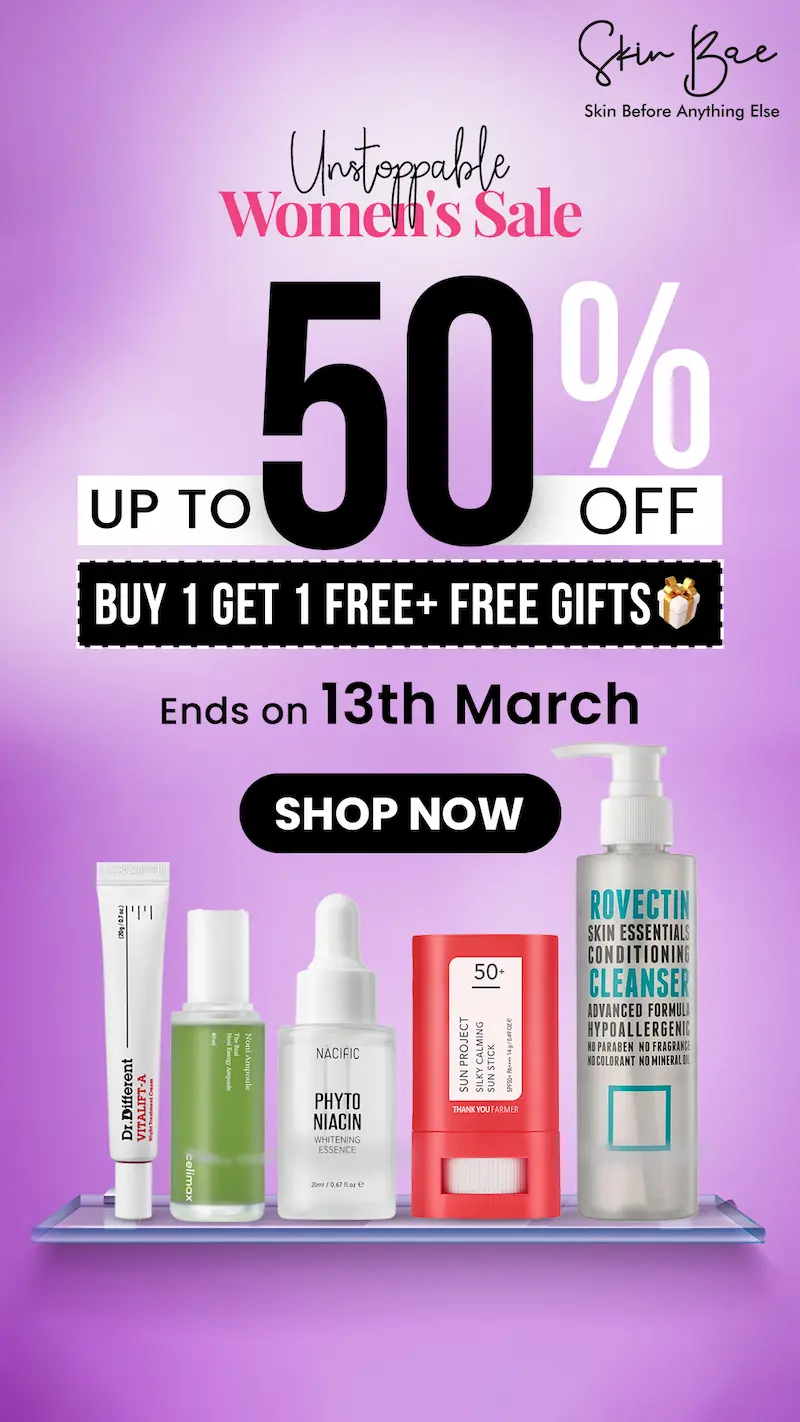 How to apply: Emulsion does more so than hydrating your skin. It basically enhances your skin's absorption capacity for next product you will apply, mostly moisturizer. Opinion varies, but it is generally accepted that emulsion must be applied after toner and serum, and before a moisturizer. Take some product on your fingers, warm the product by rubbing it and apply the product on your face and neck by just patting your skin lightly, don't rub.
Price: 990 INR for 150 ml.
My take on It's Skin Green Tea Watery Emulsion:
Packaging: I had some mixed feelings about packaging. The product comes in a standard frosted glass container which is a solid affair and very heavy. I think the bottle has been made of frosted glass to keep the product cool but nevertheless it is quite durable and heavy. So heavy that should you bang it on a hard surface or table, it may get a dent, so please put it lightly. The bottle comes in a simple open mouth and cap affair and no dispenser, so it is difficult to control the amount of product, it may create a mess.
Color: Color is a very light green.
Fragrance: Fragrance will remind you of tea and mint, making the smell bit pungent but it goes away after applying you won't smell it on your skin.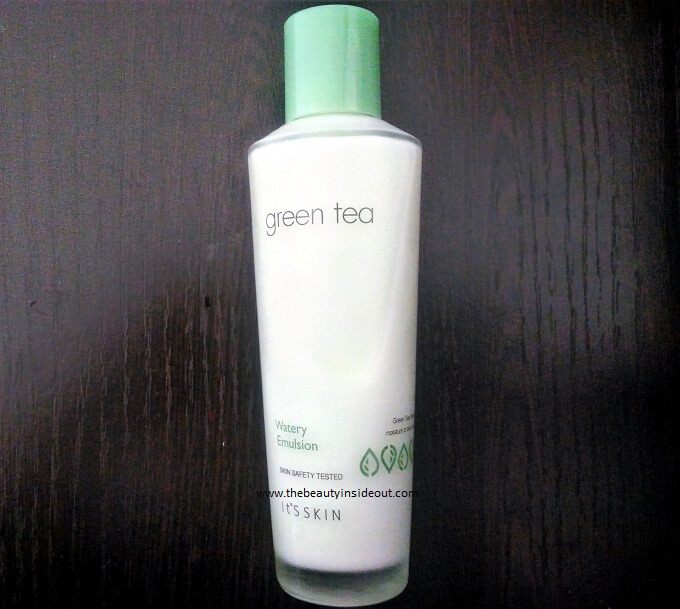 Experience: I wanted a light moisturizer since summer is approaching and my combination skin gets oily during summers. I used the It's Skin Green Tea Watery Emulsion for 15 days and I am happy with it. It does what it claims, provides hydration without the product feeling heavy on your skin or making it oily. Since you need to pat this product lightly on your skin instead of rubbing, it may take a longer time for absorption but once it settles on your skin it will provide light hydration. I only applied emulsion for a week and no moisturizer my skin did not feel dry or taut for almost 7 hours till I washed my face and had to re-apply. While on my second week of use, I followed my regular skin routine where I applied my moisturizer after applying this emulsion, my skin felt hydrated the entire day till I had to wash my face for my night skin care routine. I got no breakouts or active pores after applying emulsion, if anything my skin didn't get a bit of shine at any point in a day, so YAY! I didn't need to use large amount of the product; small coin sized amount was sufficient for my face and neck. So, despite the higher price, I think the product will last for longer time (My guess is 3-4 months).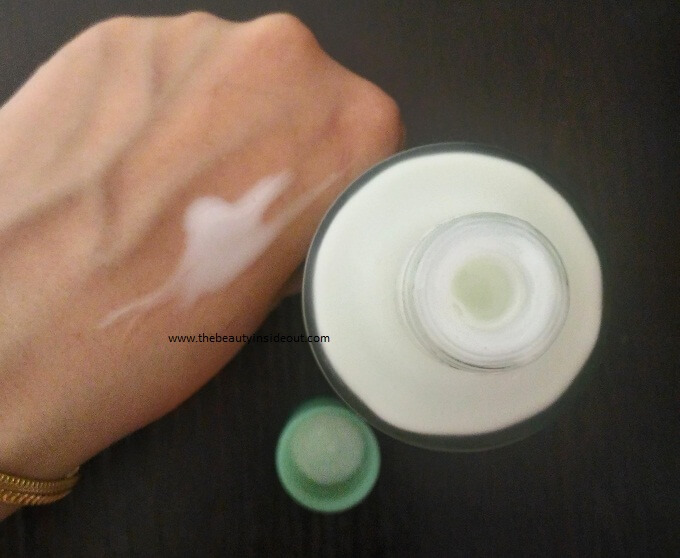 Basically, it is like an extra layer of hydration to complement your moisturizer, but I don't think it can substitute your moisturizer, you may need to get extra hydration for your skin. People with oily or combination skin may need to apply other water or gel-based moisturizers post this emulsion. People with dry skin should always apply moisturizer regardless of the application of emulsion. I personally liked the fragrance, but it may put off some people, it does go away after application, so you can consider this product
They say that product has been tested for safety but if you are allergic to any of the ingredients or have sensitive skin make sure that you do a patch test first by applying it on the inner side of your wrist or pit of your neck.
Pros:
You don't need to take large amount for face and neck
Provides light hydration for oily and combination skin
Gives a cooling effect to the heated skin
Sturdy container
Makes skin soft and supple
Cons:
Heavy container
No bottle stopper or dispenser
Fragrance may put off some people
Can't substitute moisturizer
Rating: Just for the heavy bottle and no dispenser, I am giving a rating of 3/5.
Would I recommend it? Yes, for summers this is a perfect light hydration provider, especially for oily and combination skin. Dry skin beauties may want to skip this product.
Looking for other moisturizer?
Guest Author: Sneha Goley