Being someone who has tried out a variety of makeup products, I was surprised by this Elf Powder Blush Palette. Especially for the price it came in, this was a surprisingly a good palette. I was in search for a product that didn't have any side effects on my sensitive skin and I am happy that I found this. Read on to get a better idea about its pigmentation, longevity and have a look at the swatches of this blush palette.
Product Description:
Enjoy 4 gorgeous shades that allows you to mix and match to create different looks. Create a beautifully pigmented look that lasts all day.
Ingredients:
Full ingredient list is mentioned on the outer carton of the palette. Unfortunately, I have discarded it, so I couldn't picture it. You can find out what goes into making this product on their official website.
Price : 8 USD for 0.48 oz
Availability: Elf Online Website and Not available in India
Elf Powder Blush Palette Review
Packaging: Packaging is something that you can be picky or just be okay with the overall outlay. The packaging is pretty standard for any makeup palette. It comes in a black plastic palette with a good quality mirror attached to it. Each blush is about 1 g in weight. They can be popped out from the pan, though with a bit of effort so they are not loosely packed. If at all the brand comes up with different single shade pans, you can replace them with the shades you like. Overall, the product build is good and travel friendly. It doesn't have a great look, but it's not bad either. The product claims to be vegan and contains no animal products.
Shades: The Elf Powder Blush Palette comes in two variants Light and Dark. I got the Light one which has four shades that is more suitable for light and light to medium skin tones. The shades are not named or numbered. So, on top left is a cool toned light pink shade, on the top right is a warm medium bronze shade, on the bottom left is a medium pink shade and on the bottom right is coral pink shade. Although two of the shades looks like it has a teeny tiny bit of shimmer on the pan, they do not come out as such on the skin. I could very well say that all the shades are matte, a good looking matte at that and not a flat matte. The shades complement well with each other. They can be mix & matched to create a unique tone according to your liking.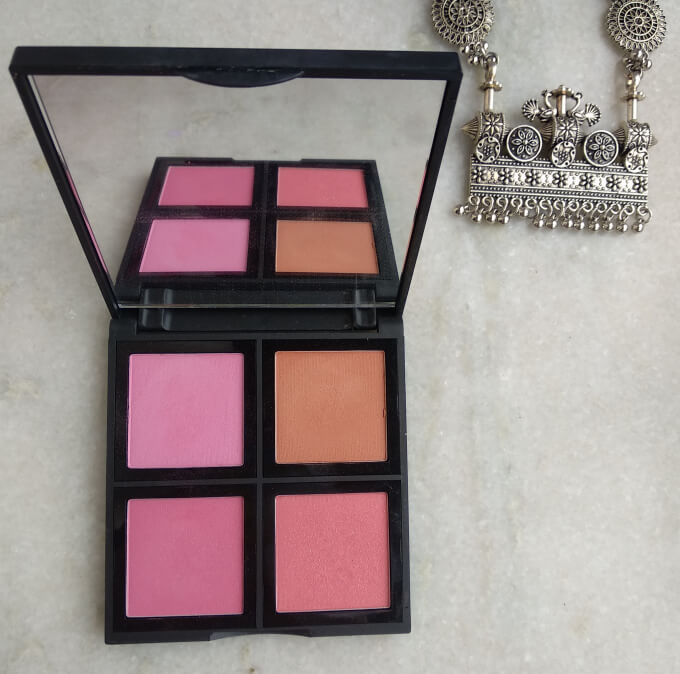 Texture & Pigmentation: The blushes are quite soft and silky. It is a bit powdery on the pan when you pick it up with a brush but doesn't give a powdery look on the skin. They blend easily without much effort. All the shades are well pigmented such that one can easily sheer it out for a natural look and build it up for a more striking finish. I personally like using a light hand with the product due to both it's texture and pigmentation for a flawless finish.
Performance: They pretty much stay put throughout the day with less fading. After using this palette for a couple of months, I can safely say these are my go-to shades for any occasion. I like that the bronze shade in the palette doubles up as a contour product suitable for natural look. So I don't need separate product for that. The Elf Powder Blush Palette definitely performs up to its price point in most terms from my experience. But is this the best blush palette you can buy? For a beginner and occasional user, yes most definitely. For a professional, it might not be. There are certainly better alternatives which also happen to be extra expensive. If you are someone who likes to wear make up in a casual way and not keen on trying heavy makeup, then this product will satisfy you. It isn't too heavy on your skin. Since the shades match each other, they are suitable for most skin tones.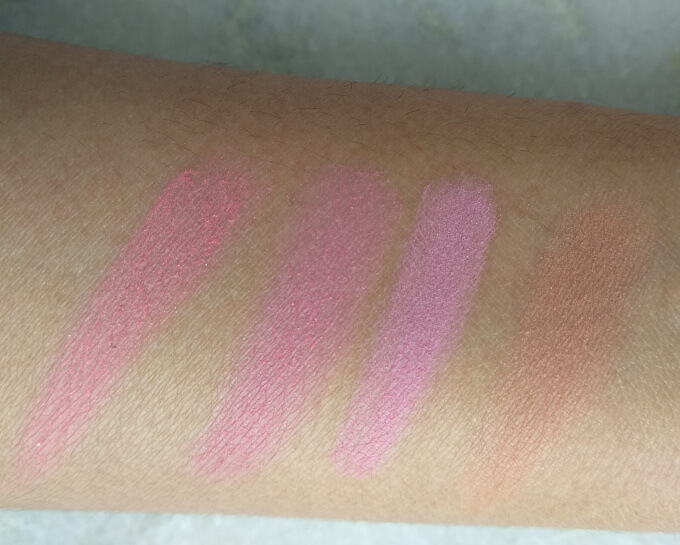 Pros :
Nice shades.
Soft texture, blends easily
Well Pigmented, so a little goes a long way.
Natural looking Matte finish.
Beginner friendly.
Vegan and Cruelty Free.
Cons:
Not an exotic palette for professionals.
Rating: 4/5
Would I recommend it? Sure, but it's not for everyone. It's great for beginners who want to try out makeup for the first time. Nothing bad about the product in my opinion, but it's not super amazing. The quality is good and the product won't disappoint for the price you pay.