Ever since I started using Kama Ayurveda Rose Water, I got so hooked to it that I replaced my toners with Rose Water. While browsing through Qtrove.com few months back, when I saw a Rose Water product along the super acne fighting ingredient Tea Tree Oil, I couldn't go past without picking it. It also has Lemon Extract, which is great for acne marks. So why not! I just added it to my cart. The product I'm talking about is the Cucumber Organics Tea Tree Clarifying Toner. Cucumber Organics – Yess that's the brand name; I'm so loving it, it's quirky and sure to catch your eyes. It's a natural skincare line, cruelty free, it has everything that I look for in a skincare brand. But still the product has to satisfy our needs right? So did the product satisfy my expectations? Keep reading.
About Cucumber Organics
Cucumber Organics invents skin and hair products that complement the inner cure with the outer cure. Priya Singhal, who started 'Cucumber Organics', an organic skin care product venture, with partner Zaheer Khan, believes in genuine heart-to-heart sharing and using honest ingredients provided by Nature. Cucumber Organics provides wide range of Organic and Natural beauty products for Skin and Body care all of which are free from harmful chemicals and preservatives.
Cucumber Organics Tea Tree Clarifying Toner: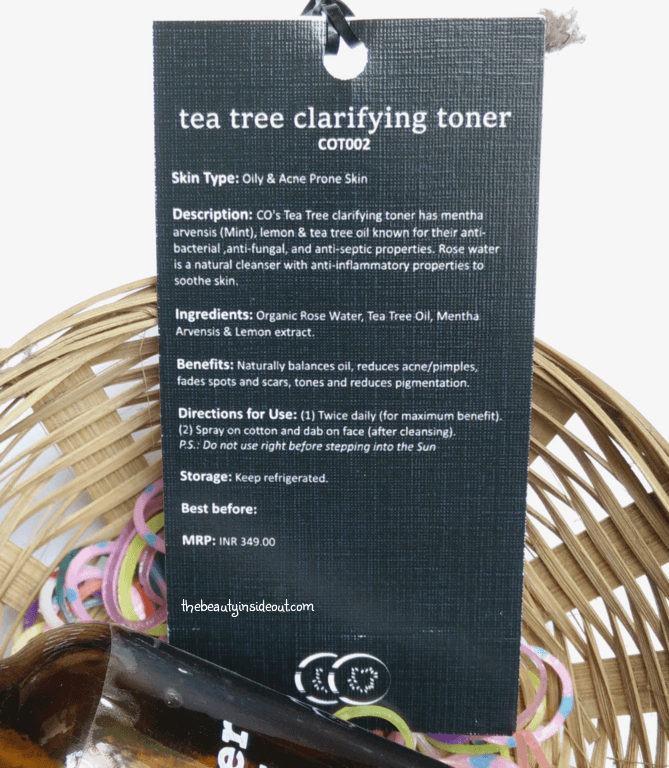 Ingredients: Organic Rose Water, Tea Tree Oil, Mentha Arvensis (Mint) and Lemon Extract
Price: Rs.349 for 50 ml. You can buy it from Qtrove.com
My Experience: Though I bought this from Qtrove, the products are directly sent by the vendor, i.e. the brand itself. So the packaging was done by Cucumber Organics and I'm happy with it. The product came in a good quality cardboard box with Cucumber Organics imprinted on it. Since the rose water came in a glass bottle, it was securely bubble wrapped. I liked that the spray nozzle was separately provided in a plastic cover; the bottle itself came with a sealed screw lid like those of soft drink bottles. I could feel the product's effectiveness highly preserved due to their thoughtful packaging. The dark colored bottle was due to the addition of tea tree essential oil. You must be knowing that essential oils must be stored in dark bottles and stored in dark places to be highly effective and not lose its value.
The fragrance is Awesome, smells like fresh roses and has a hint of Tea Tree Oil. I absolutely love the scent. It smells natural, no hint of rose essential oil and slightly overwhelming and stronger than other rose waters I've tried ( Kama Ayurveda, Zofla and Mitti Se Rose Waters) yet it's soothing and refreshing. The scent of roses lingers for a quite long time if you directly spray on your face which I do only at times. Because I have those toners that I use as refreshners by spraying directly and the others which I use with a cotton ball for more toning effect. This one falls in the later category. I love using it in this way and the packaging recommends it too.
Coming to the texture, the toner is obviously a watery liquid that comes out light brown on the cotton ball. On my cleansed face, I just swipe it across my face and I can immediately see the pores near my nose area getting shrinked and tightened. Also it pulls out left over face wash residue and dirt if there is any leaving the skin clearer, brighter and toned.
The toner is enriched with ingredients that are great for acne and hence would help to treat active acne. You can add this toner into your acne skincare regime to speed up healing your acne along with a good face wash and oil-free lightweight moisturizer. Apart from the price, there's nothing that I don't like in this toner. It contains all the good ingredients, smells nice and works well in controlling acne. I didn't have any new breakouts so I can tell it prevents occurrence of new pimples.
Note that since it contains tea tree oil, it is not recommended to use this immediately before sun exposure. Since I work from home I used it twice a day, during my morning and night time routine and had no problems with it.
Overall, this is a MUST TRY product. I highly recommended it. Use it and you will know why!
Rating: 5/5
Cucumber Organics Walnut Oatmeal Scrub: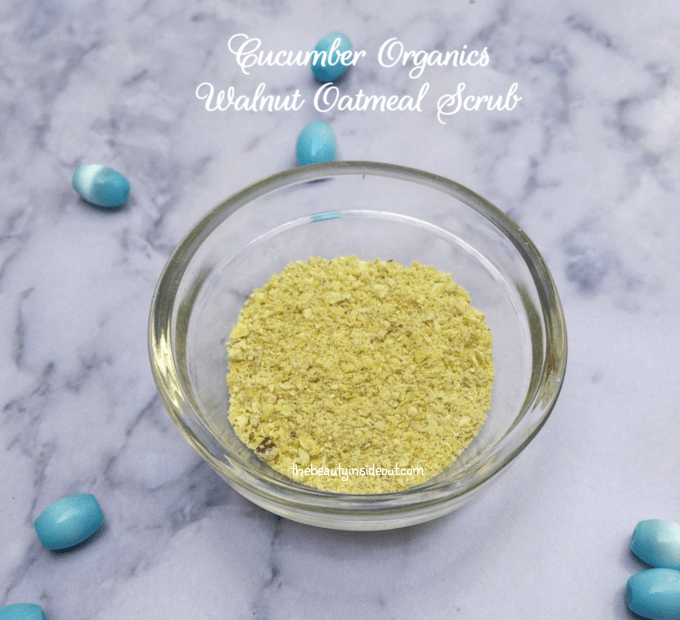 Price: Rs.299 for 60 gm. Buy HERE .
Ingredients: Organic Oats, Walnuts, Almonds , Wild Turmeric
Suitable for: Dry, Normal and Sensitive Skin
My Experience: I have a weakness for oatmeal. Yes I love them, be it as a skin food or a consumable food. I love the way it makes my skin feel, silky soft to touch. When I received this as a sample along with the toner that I purchased, I was really happy. Previously I have used the Organic Mill Green Tea Cleanser which was oatmeal based and I can say oatmeal does make a difference in the texture of your skin. You can also read an oatmeal DIY that I am fond of making at home.
Coming back to the Scrub, this did not fail to impress me as well. With one use of it, I could tell that it's made with purest of the purest ingredients. It smells natural, feels natural, just like the DIY I make at home. The scrub is not too coarse or fine and a little quantity is enough each time.
It is gentle on the skin and does not feel harsh or irritate the skin . I mix it with water to make it into a paste. You could also add curd or aloe vera gel according to your preference. I apply it as a face pack, let it sit for 5 minutes, moisten my fingers and scrub, scrub, scrub for 2 minutes and wash off with plain water. It made my skin super smooth and silky soft. It also gives an immediate brightened and glowing effect.
Though this is meant to be for dry, normal and sensitive skin, it worked fine for my oily combination skin too. It does not make my skin stretchy unlike foaming cleansers. But keep in mind that this is not a heavy duty chemical scrub, so don't expect it to remove your stubborn blackheads.
In all, I find this to be an amazing skin-friendly powder cleanser+scrub+mask that is gentle enough to be used on a daily basis. I recommend trying it this as well.
Rating : 5/5
Yes that's a 5 on 5 for both the products. I love them so much. If you haven't explored this brand, I genuinely suggest to check them out. They have some amazing products and I am sure you all will like it. (P.S : This is not a sponsored post)
So that was all about it. I hope you find this review helpful. Have you tried any product from Cucumber Organics? Share your thoughts in the comments section below
Also don't forget to check out: