I have self-diagnosed myself with a beauty problem. My addiction to shimmery eyeshadows, be it in individual pots or big palettes, has deepened thanks to the Charlotte Tilbury The Icon Palette. I received it on my birthday from my friends turned Santa. Use this palette to get the kyra kyra affect on your eyes in real life.
Product Description: 
True to the description inscribed on the back of the palette, 4 easy looks can be created. There are a total of 12 shimmer eyeshadows, with 4 columns, one for each look. All the shades are definitely brown-girl friendly and buildable. The palette can last up to 30 months which is much longer than many others with only 12 to 18 month expiration dates.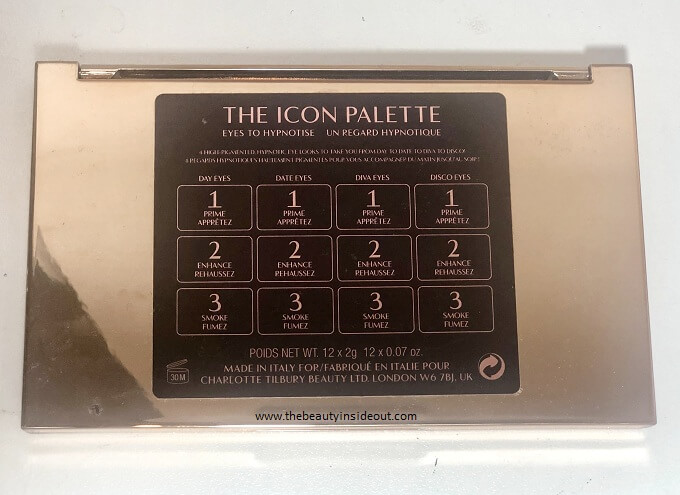 Directions:
There are no rules! I have tried different combinations – first used primer on my eyelid, used matte shades from a different palette, and even directly put the shimmer shadow without a concealed/primed base – it has worked for me each time. The application varies from person to person.
Price: INR 4,475 ($65)
My take on the Charlotte Tilbury The Icon Palette:
I'm making a PSA for all the matte eyeshadow lovers – there isn't a single matte shade in this palette. But to all the shimmer-obsessed people like me, welcome to eye-shadow heaven. The formula is creamy and slides on to my eyes easily. Usually there is some fall out with the brighter yellow shade – but there's nothing that a little makeup wipe or a clean brush can't correct.
8 out of 10 times I have difficulty opening the palette, but once it opens up, a luxurious pan of colors greet you. The size is perfect as it sits as easily on your vanity as it fits in your purse. For reference, the mirror is as big as the screen of my iPhone 8 plus. On days you're applying makeup in the car (we've all been there!), you can do your entire makeup routine using this mirror.
Want to feel glamorous? Don't forget that some shades are similar to the ones that are used on Victoria Secret models. The best part is that the majority of these colors work well even on my brown skin tone. Even though the lighter green shade lacks pigment enough to stand out on my eyelids, the pink and orange shades work really well.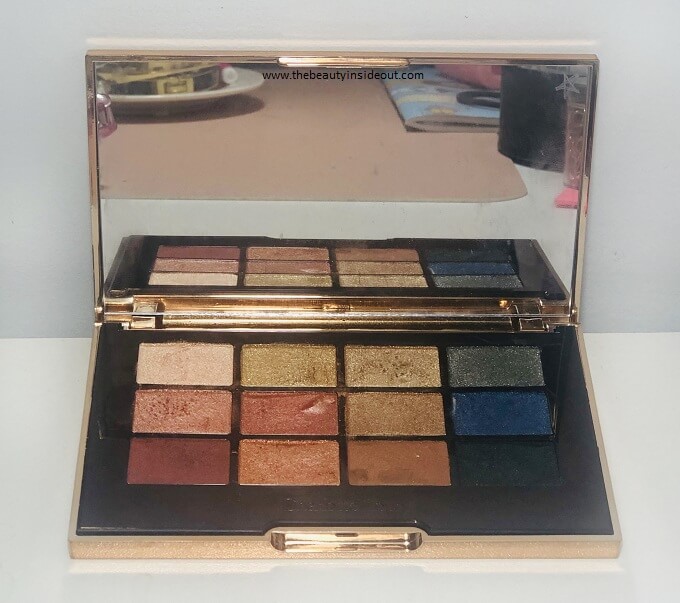 This part of my review is for the lazy girls like me. This palette works for me on the days that I have to step out but can't be bothered to put on a full face of makeup. I simply swipe one shimmer shade all over the eyelid, which is enough to make me look put together. Just keep switching the colors and you can go at least 10 consecutive days without actually putting in a lot of work on your eye makeup. But on the nights I go out, I mix the 2 golden shades together and sometimes even use it wet (spray my brush with setting spray), to create an even more dramatic outcome.
Finally coming to the price – even though I didn't purchase this palette myself, if I were to, I would think twice before dropping $65, considering that other 12-shade palettes are usually $20 (INR 1,500)  cheaper. But when I think of the Charlotte Tilbury brand, the word luxury pops up in my mind. So remember that you are paying a major part of the price for this well established name too.
Result:
Sleek eye looks both, on days that I want to look effortless without putting in much effort and on glam days.
Pros:
Multiple looks
Portable
High quality
Decent range of shades
Cons:
Pricey
No mattes, only shimmer shades
Difficult to open
Rating: 4.5/5
Would I recommend? If you're looking for a shimmer palette, then there's no other product I'd recommend more than this one. If you're on the fence, don't forget that these shimmers match well with the mattes of your other palettes.