Summers are round the corner and it is high time that we all stock up high SPF sunscreens. VLCC recently launched a range of parabens free, broad spectrum UVA UVB protection sunscreens with new revolutionary gel crème formula. I bought the VLCC Matte Look Depigmentation Sun Screen Gel Crème SPF 30 as this is the only one that said Matte. Mattifying products are great for summers, especially for those who have oily skin. Keep reading to know more about this product.
The range includes 6 variants as follows:
VLCC 3D Youth Boost SPF 40 Sunscreen Gel Crème
VLCC Radiance Pro SPF 30 Sunscreen Gel
VLCC De Tan SPF 50 Sunscreen Gel Crème
VLCC Water Resistant SPF 60 Sunscreen Gel Crème
VLCC Fair+Glow Sunscreen Lotion SPF 20
VLCC Matte Look Depigmentation Sun Screen Gel Crème SPF 30
Product Description: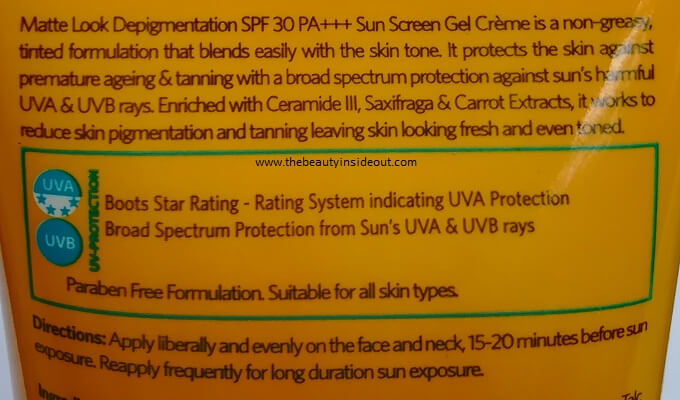 Ingredients: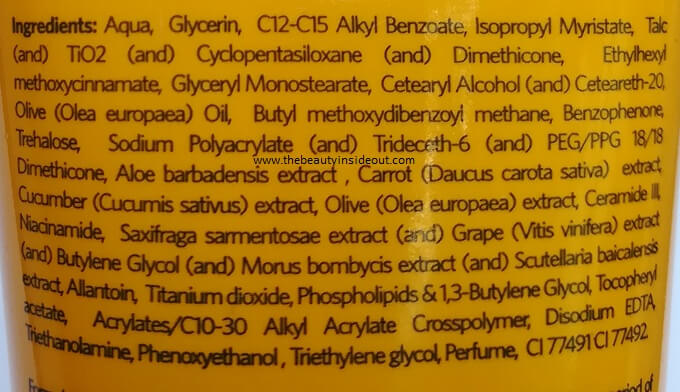 Price: 195 INR for 50 gms, 295 INR for 100 gms.
My take on VLCC Matte Look Depigmentation Sun Screen Gel Crème SPF 30
Packaging: The sunscreen comes in a bright yellow tube with an orange flip top opening. I've seen most VLCC products to have such similar tube packaging, however this range has a new and brighter look. Kind of attractive to me. The tube is also convenient to use. The flip top locks tightly hence the tube is leak proof and easier to carry in your bag. The tube has all details about the product on its back side.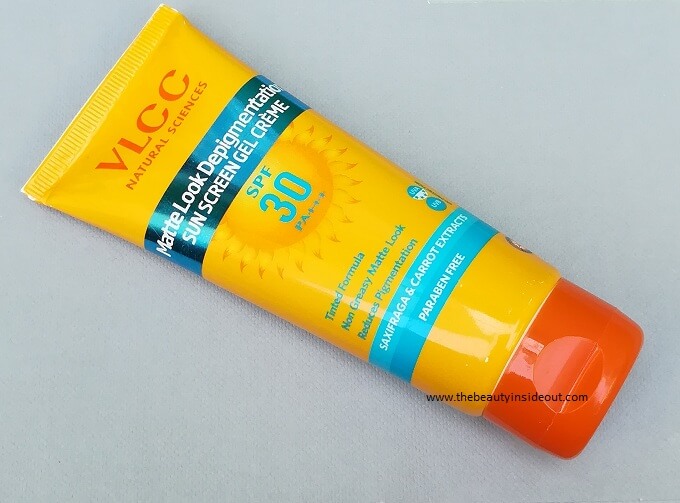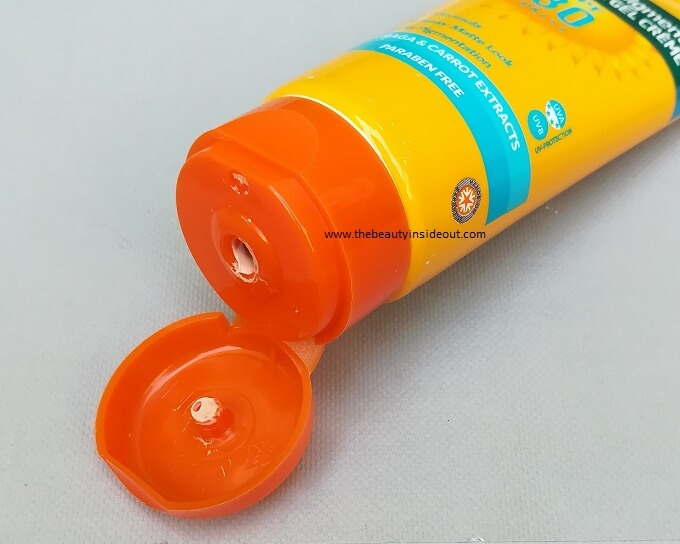 Fragrance: The sunscreen has a nice herbal fragrance. It is refreshing, mild on the nose and does not linger for more than half an hour.
Color: The VLCC Matte Look Depigmentation Sun Screen Gel Crème looks like a BB cream since its tinted in beige color. But don't expect it to provide coverage or even out skin tone, this is just a sunscreen. The tint is there to do nothing.
Texture: This is marketed as a gel crème sunscreen and has a creamy texture. It is not like those gel creams that are bouncy. Rather I found it like a thick lotion. As you can see, the consistency is medium and not at all flowy. It also feels like a creamy lotion when I apply it on the skin, nothing gel like!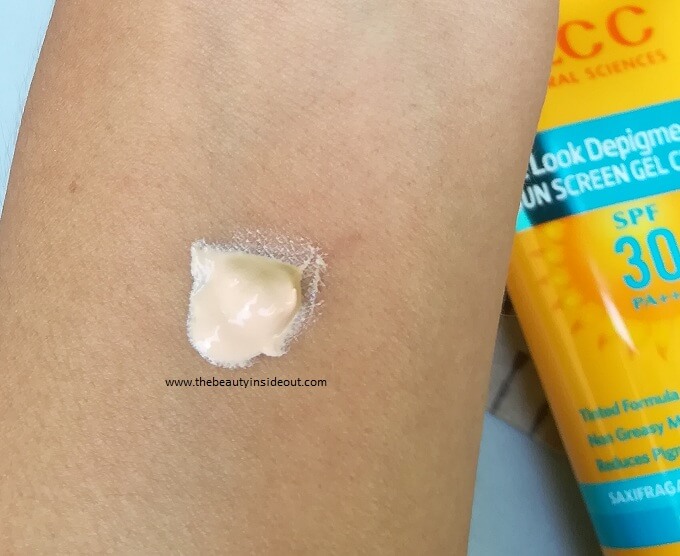 Experience: I apply it in the mornings after cleansing and toning. The sunscreen glides effortlessly but feels a tad bit oily while blending. However, it settles down to an oil free finish in less than a minute. Though it is said to give 'Matte Look', the sunscreen is not very mattifying and does not make my skin dry like the Lotus 3 in 1 Matte Sunblock, rather it mildly moisturizes while giving a smooth, supple finish. So this will suit both dry & oily skin types. Oily skin types can skip a moisturizer whereas dry skin types can include one. The sunscreen is also lightweight on the skin once it sets. You can very well apply makeup on top of this and also this doesn't leave any white cast.
I've been using it for the past two weeks, starting from the time when the weather was cloudy and now the sun has just started to peak. In both weathers, the sunscreen didn't cause me to perspire more. I applied a lightweight moisturizer before the sunscreen on days when I needed some more moisture. The SPF 30 was adequate for protecting my skin from UVA and UVB rays. I'm yet to test it under scorching sun. Will update on that later on.
As for depigmentation, it would prevent from the appearance of pigmentation spots. But I'm not certain if this product alone will help to reduce pigmentation as claimed. This sunscreen didn't cause me new acne until now, but it is highly possible that it will break you out as it contains Isopropyl Myristate, along with Dimethicone both of which are acne causing ingredients.
Just so you know, this is not completely free of chemicals, only that it is free of parabens. So this is not for those who are looking for a physical sunscreen.
Pros:
Travel friendly packaging.
Mild, non-bothering fragrance.
Perfect consistency, blends easily.
Non-greasy, oil free finish.
Lightweight on the skin.
SPF 30 provides adequate sun protection.
No white cast.
Perfect for all seasons.
Suitable for most skin types, except acne prone.
Cons:
Contains acne causing ingredients.
Paraben free doesn't mean it is free of chemicals.
Rating: 4/5
Would I recommend? Yes and No. Yes, because it is really hard to find a sunscreen that doesn't leave a white cast. The formula is also non greasy and comfortable on the skin. But, if your skin can't handle few comedogenic ingredients, then please skip it.
Looking for other sunscreens?