Today's review is about Nivea Rich Moisturizing & Cocoa Butter Body Cream. I love using body butter in winter. They are richer in formula and have better nourishing power. I have tried many affordable body butter in the past couple of years. One of them was from Nivea. It was Nivea's Aloe Vera Body Cream. I liked how it kept my skin soft and moist throughout the day. Last year Nivea launched two variants of its international body butter range in India. It was mid-winter and my winter skincare shopping was done by then. This year I made it a point to try Nivea's body butters. My mom was also interested to try out a new body moisturizer. Finally, I bought both the variants of Nivea Body Cream; one for me and the other for my mom. This review is going to be our experience with these two body butters.
Product Description:
Nivea Body Cream is infused with the Nivea deep moisture serum and 2x almond oil. The patented Nivea formula uses the knowledge, that our skin contains sufficient moisture in its deeper layers. The unique composition of skin's own moisturizer, moisture-locking lipids and care providing oils bind and hold water in the skin thus the moisture cannot evaporate easily into the surrounding area. The skin is well protected from drying out because water loss is reduced and the moisture level of the skin is increased. The latest testing methods have shown that the perfect combination of high-quality ingredients of this body lotion together with the deep moisture serum penetrates deeply into the skin, locking moisture and providing deep moisture for 48 hours.
Ingredients: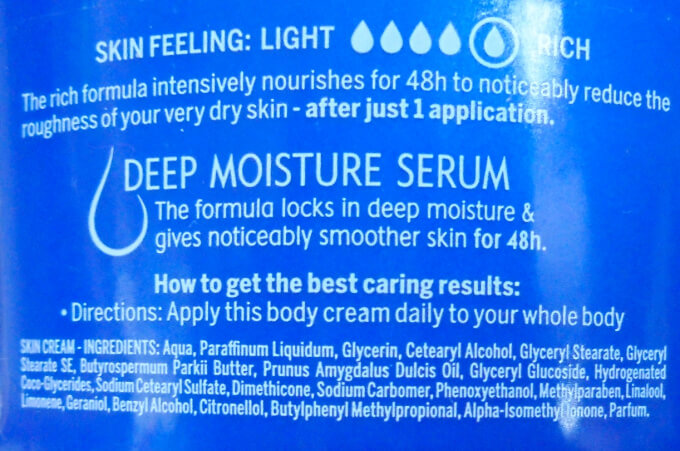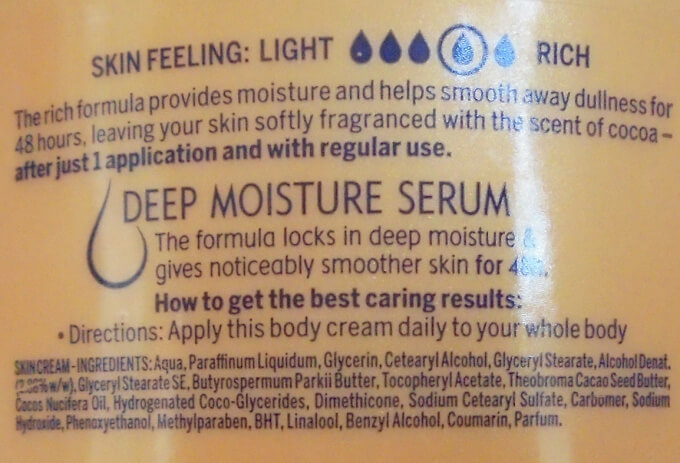 Price: Rs.275 for 250ml
Where to Buy? Nivea Body Creams are available in online stores like Nykaa and Amazon. You can also buy it from local beauty stores, drugstores, and leading departmental stores across the country. This body cream range is a part of Nivea's international skincare range. You'll also get in countries other than India where Nivea products are available.
Nivea Body Cream Rich Moisturizing & Cocoa Butter Review
Packaging: Nivea Body Cream comes in a chubby plastic tub. Both variants of this range have the same tub size and capacity. Once you open the screw lid, you'll see safety foil sealing to keep the cream secure and uncontaminated. The packaging is sturdy but not so travel-friendly sure its bulky size. This body cream range has only one size (250ml) for both the variants. It would be great if Nivea could launch travel sizes of these. I don't like tub packs that much. Tub products expire quickly if you keep them in humid places like your shower area.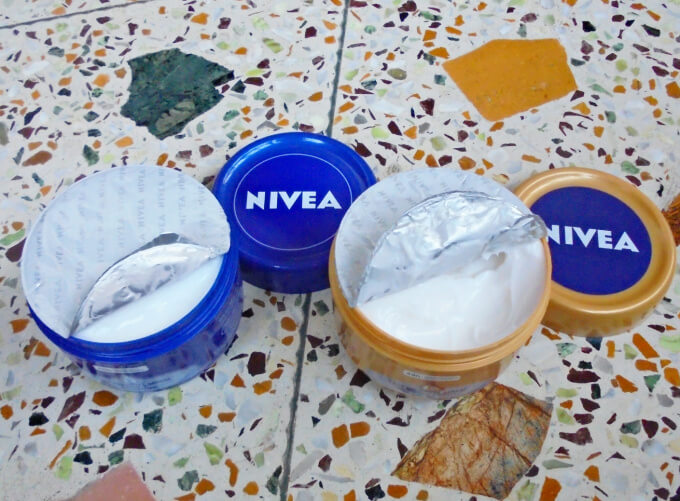 Fragrance: Nivea Body Cream variants have a substantial difference in their fragrances.
The Rich Nourishment variant has a very soothing floral fragrance mixed with original blue tin Nivea Creme's smell. I found this smell a little bit similar to Pond's Body Lotion. The fragrance doesn't feel heavy but it lingers in my clothes for some hours.
The Cocoa Butter variant has a rich cocoa and vanilla fragrance. The smell is somehow similar to Vaseline's Cocoa Glow range. The smell is very lush and brings warm Christmas vibes in my mind. This one has a stronger fragrance than the other one.
Colour & Texture: Both Nivea Body Cream variants, Rich Nourishment and Cocoa Butter look pure white in the tub. There is a slight difference in texture though. The Rich Nourishment variant is targeted to normal to dry skin and Cocoa Butter variant is for dry skin. The first one is slightly lighter than the later one.
The Rich Nourishment variant, although lighter, is still thicker than common winter body lotions like Vaseline. It takes less time to get seeped into the skin and gives a nice touch of moisture. These body butters are strictly for cold and dry winter weather.
The Cocoa Butter variant is super rich and creamy in texture. It takes time to get absorbed into the skin. You'll also feel a bit of greasiness after application. It is a good option for dry to extremely dry skin in winter. It will keep dry skin moist for long.

My Experience:
Both I and my mom possess dry skin. We look for something that can provide deep moisturization in winter. Body lotions are never enough for our thirsty skin. None of us has body acne issues so we are okay with products with oils and other heavy-duty ingredients. Nivea's Body Creams are quite heavy. That's the reason they last through the day. We use body creams after a shower. We have to give it a good rub otherwise it doesn't seep into the skin. This is the case with the majority of body butters. We are good at it. The skin feels greasy for 5-10 minutes afterwards. Then the product settles down. This range is definitely good for people with dry skin like us. I tried it in summer; it made me feel very greasy and sweaty. So, it's strictly a winter product even for us. These body butters keep the skin moist, soft. We don't feel stretchy dryness anymore. We didn't get any skin issues like rashes or body acne so far. We have used Vaseline's body creams last year. Those ones had similar formula and their prices were lower than Nivea. Overall, it's a good body butter range for those who don't mind parabens and mineral oils. The creams are good but we will not buy them until their formula becomes paraben-free.
| | | |
| --- | --- | --- |
| Criteria | Nivea Rich Nourishment Body Cream | Nivea Cocoa Butter Body Cream |
| Colour | White | White |
| Texture | Thick, creamy | Rich, creamy, slightly greasy |
| Suitable For | Normal, Dry skin | Dry to Extra Dry skin |
| Fragrance | Light, floral | Intense, cocoa & vanilla |
Pros:
Deep moisturizer for dry skin
Heals chapped skin, soften and smoothens
Keeps skin's moisture level intact for the day
Soothing fragrance
Does not require frequent reapplication
Protects skin from harsh winter weather
Cons:
Contains liquid paraffin
Not paraben free
Unhealthy tub packaging
48-hour moisturization claim is not true
Rating: 3/5
Would I Recommend? Nivea Rich Moisturizing & Cocoa Butter Body Creams are great for tackling winter dryness. These are mainly suitable for people with dry or normal skin. The ingredients list contains some comedogenic ingredients so stay away from this range if you have or had body acne issues. Please remember, these body butters are not free from paraben and mineral oil.