When doing skincare I often feel like we tend to forget about the basics. Actives after actives will not work if we can't clean our face effectively or one can say clean our face with a harsh cleanser. And boy oh boy, finding an affordable gentle cleanser in the Indian market has been a nightmare. From Ponds to The Face Shop expensive cleansers all of them dries the hell out my skin. Sometimes they can be too acidic or sometimes very basic. One survey in Germany noted that 90% of oily acne-prone skin people don't have oily skin, they just tend to wash their skin so hard that their skin is producing extra oil to compensate with that. Now coming to the point, I bought Joy Face Wash after seeing its pH-balanced claim. Did it work? Let's find out.
Product Description:
pH-balanced skin is happy skin, always. With Vitamin B and Panthenol, this face wash can go deep into your lower skin cell and provide moisture. When regularly used over a long period, Joy face wash can give one relief from dry itchy, irritated skin.
Joy Face Wash Ingredients: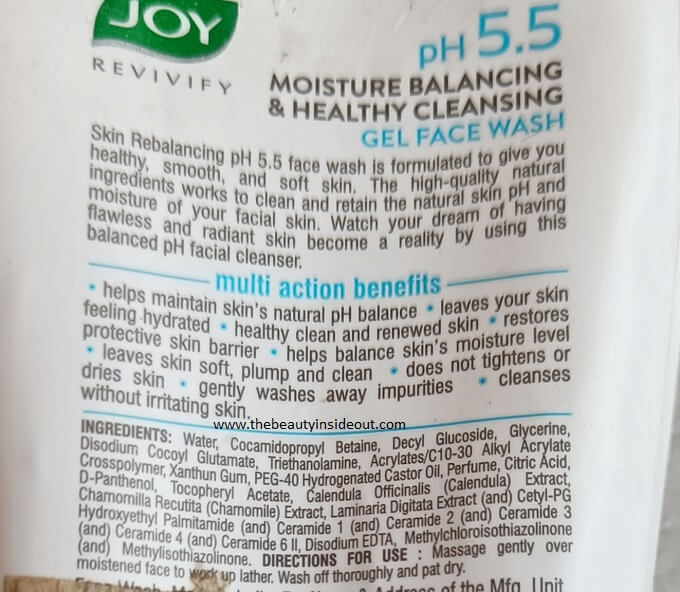 Price: Rs.195 for 200 ml.
Joy pH 5.5 Cleansing Gel Face Wash Review
Packaging: The Joy Face Wash comes in a white squeeze-able plastic tube with a green cap. The packaging is good for the price. It doesn't look cheap and you can easily travel with it. Other than that, it's a cleanser, so I don't think I should make bigger expectations from this.
Texture: It is a clear gel that isn't too thick or too runny. It foams a lot and very quickly so one doesn't need a lot of product when using this. A little goes a long way.
Fragrance: Joy pH 5.5 Face Wash has a synthetic cosmetic scent. I don't mind it as it doesn't linger much. But people with sensitive skin should patch test first.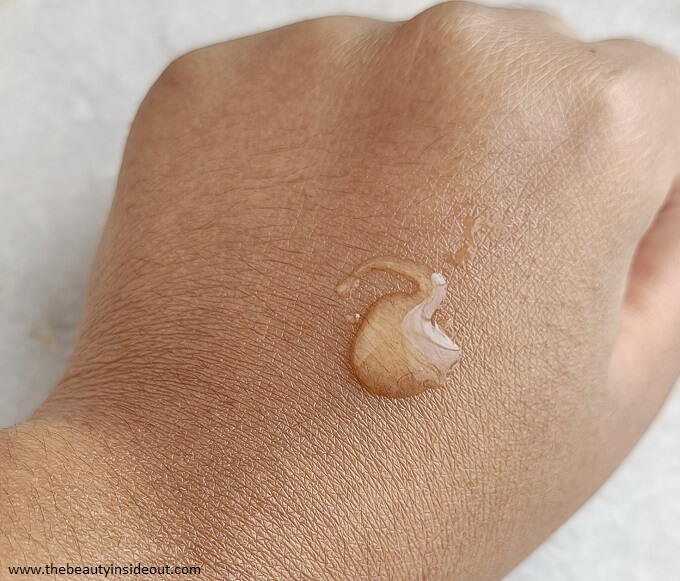 My Experience:
This particular Joy Face Wash is a hidden gem in the Indian skincare industry. This is cheap and comes in good quantity. It is pH balanced and doesn't strip away the skin after washing. It has a good amount of gentle surfactants which washes away non-waterproof lotion-based sunscreens easily in one go. For my lazy days, I can use this without worrying. I have used joy face wash when I was using Tretinoin under my Dermatologist's advice and it soothed my skin to some point. I didn't feel itchiness or skin peeling due to dryness. The results were short-termed but I was kind of surprised that it can do so. This face wash is marketed as a pH-balanced formula that has Vitamin C and Panthenol. So I tested it with a pH strip and it's actually very skin-friendly.
But no product is a match made in heaven. This product has its own cons. I feel like sometimes this product is very difficult to wash off. After a thorough cleansing, I can sometimes feel the product is on my face. And other than that, when my skin feels very dehydrated I can't use this product because it makes my skin more dehydrated than already is. But then following up with a moisturizer is a must for any cleanser. This face wash works wonderfully when my skin looks and feels good. I suppose it'll be great for skin that's normal and doesn't deal with many skin issues like acne, dryness, etc. If you are looking for an affordable second cleanser then I think one can definitely try this product.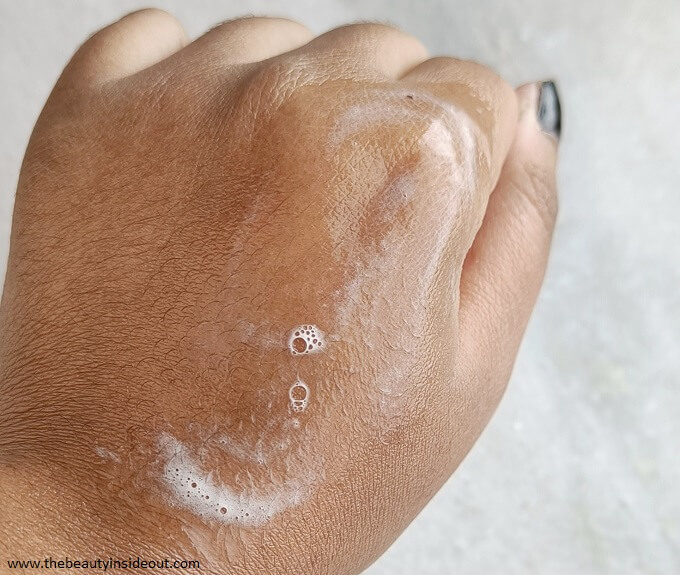 Pros:
Very affordable.
pH friendly.
Gentle on the skin and have great non-harsh surfactants in the formula.
Easily available.
Little goes a long way.
Can wash off non-waterproof sunscreen and makeup for lazy days.
Skin doesn't feel tight.
Cons:
Sometimes it doesn't wash off leaving a slippery residue.
May further dry out dry & dehydrated skin types.
Rating: 4/5
Would I recommend it? Yes, it's a good, gentle face wash. With a pH-balanced formula, this Joy Face Wash For Sensitive Skin can go deep into your lower skin cell and provide moisture. It's a hidden gem in the market. I'd recommend it.
Have you tried this Joy Face Wash? Do try it and share your experience with us.