There is no lip balm that has truly satisfied my dry and chapped lips. Whatever lip balms I have tried, they just kept my lips moisturized for a few hours and once they wear off, they are back to square one being super dry. Simply put, I am yet to find my HG lip balm. Recently I got to try the Biotique Bio Fruit Whitening Lip Balm which claims to lighten and even out lip tones. I find the name of the product to be weird calling it "whitening". Who would want white lips! They should have named it as something like it's for 'De-pigmented Lips'.  Anyways let's see how this performed.
Product Description:
Nothing much is mentioned on the packaging. It only states that it ' Lightens & Evens-Out Lip Tones'.
Ingredients:
Shelf Life: 3 years
Price: 175 INR for 12 gms.
My take on Biotique Bio Fruit Whitening Lip Balm:
Packaging: Biotique has lip balms that come in both tubs and bullet packaging. This particular whitening lip balm comes in a small tub with a screw lid and an inner protective enclosing. Although I do not like tubs and there are hygiene issues, I kind of got used to using lip balm in tubs. The tub is housed in Biotique's signature green coloured card box. I like that the tub as well as the outer box both contains details like ingredient list, price, manufacture and expiry dates. So even if I throw away the outer carton, I don't have to look elsewhere for such details.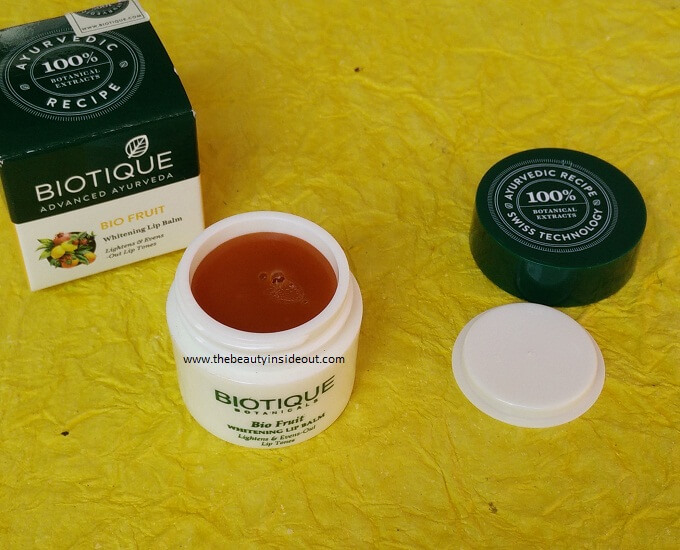 Fragrance: This smells exactly like Bubblegum, precisely the pink Boomer. The scent is sweet and easily noticeable by someone nearby you. Some may like its scent, some may not! I have no issues with the smell because it's nice and I like it. Above all, this lip balm does not taste weird unlike my past lip balm. It has almost no taste to it.
Color: The lip balm is deep orange in color. I would not call the lip balm 'tinted' as it goes on transparent on the lips. Even if I apply a thick layer, the orange hue is barely visible on my lips.
Texture: The lip balm is beeswax based containing about 68% beeswax, more than half of the entire composition. Hence it is a given, that the texture is thick and waxy. Beeswax is not a bad ingredient as such. It is just that it is not preferred by many due to its heavy feel. Beeswax is a natural humectant that locks moisture and keeps skin hydrated for long. Also, because of its thicker consistency, only a little of the product is required each time.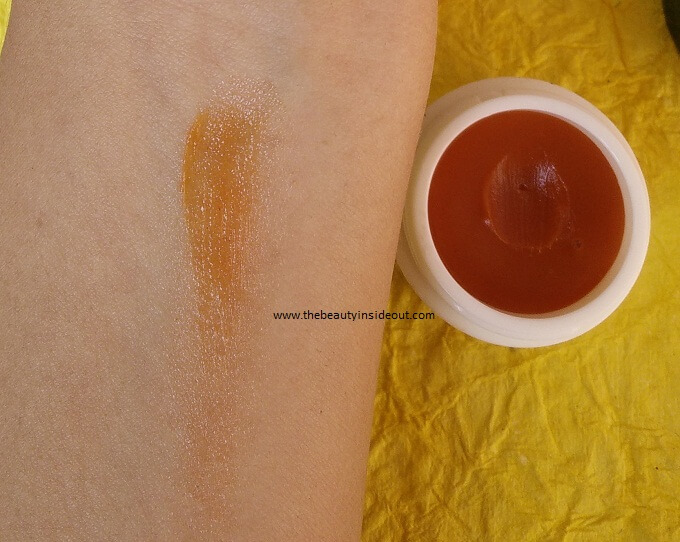 Experience: Initially I started using the whitening lip balm during the day time and I did not like it at all. My lips felt waxy and very heavy. But later on, I started using this in my night time routine and I started to have good hopes about the product. The brand does not make even basic claims like moisturizes lips or whatsoever except that it lightens. But I am pretty satisfied with its healing and moisturizing abilities. The heavy formula kept my lips moisturized and nourished throughout the night and when I wake up the next morning my lips always felt soft and supple as opposed to being dry and chapped when I don't apply a lip balm.
The lip balm did not work well under lipstick. The waxy texture greatly interferes with the application of lipstick. So this lip balm is a definite no underneath a lipstick. I will restrict this only for night time use. Also this lip balm does not contain any SPF in it. So it is not ideal for those concerned with sun protection.
As for its whitening claims, I did not see any difference on my pigmented lips even after using for a whole month. That's a major bummer because all it claims is to whiten lips.
Find the Best Natural & Organic Lip Colors & Lipsticks in India
Pros:
A little goes a long way.
Moisturizes and Hydrates lips for long.
Heals dryness and chapped lips.
No taste.
Best for night time use.
Cons:
Thick and heavy texture.
No SPF.
Fragrance might not be an issue for some.
Does not whiten/lighten lips.
Rating: 2/5 ( Because it fails to satisfy its only claim of lightening lips)
Do I recommend? No, it doesn't work and it is not worth buying.
Looking for other lip balms?