Off late I have been desperately trying out Aroma Magic Products as they looked quite promising with their clean ingredient list. I got this Aroma Magic Reviving Oxy Pack as a part of my March Glamego Subscription Box. First of all, this product caught my attention due to its unique name 'oxy pack'. This is my first ever oxygen pack and so I was really curious on how it would perform on my skin. Read on to know about this product.
Product Description: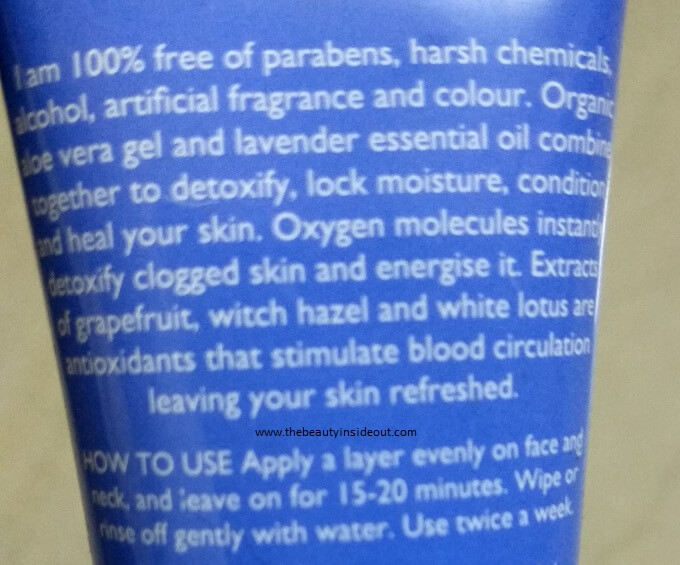 Ingredients:
Aqua, Aloe Barbadensis Gel, Citrus Grandis Extract, Hamamelis Virginiana Extract, Nelumbo Nucifera Extract, Lavandula Angustifolia Essential Oil.
Shelf-life: 3 years
Price: Rs.395 for 100gm
My take on Blossom Kochhar Aroma Magic Reviving Oxy Pack:
Packaging: Aroma Magic Reviving Oxy Pack comes in a nice looking, sea blue colored tube with a white screw cap. The tube packaging makes it hygienic to use and is travel friendly as well. Product details are clearly stated at the back of the tube.
Color & Texture: Aroma Magic Reviving Oxy Pack has a colourless gel consistency.  The texture is really smooth with no lumps and bumps.
Fragrance : It has a medicated ointment kind of fragrance which I didn't like. But the scent does disappear once you apply it. I had the same feeling with Aroma Magic Juniper Berry Moisturizer which had a raw wild turmeric scent, more on the herbal side.
Experience: At first, I was uncertain about how to use this pack. The sticker on the tube said it's a 'overnight leave on pack' whereas the usage directions said to use this as a 'wash off face pack'. I chose to use this as the latter in my night time skincare routine. After cleansing my face, I applied a generous layer of this pack. The spread-ability was good and it felt like I have applied aloe vera gel. There wasn't any tingling sensation, so it should suit sensitive skin types too. I let the face pack work for about 20 minutes. Thereafter I washed off the pack with water. There was this slipperiness while rinsing. But compared to dry face packs, this was fairly easy to wash off.
Coming to the results, I did feel the glow and instant freshness on my skin. Also, the face pack left my skin soft and smooth. I tried sleeping without applying any other products to test it out (it is recommended to use a moisturizer after using a face pack) and next morning I still had the smoothness, softness and glow on my skin.
But that is all. I guess I expected too much out of this small tube of 20 gm which lasted me for 6 usages. I know no product can bring magic in few usages. I was kind of super excited with the term oxygen and overnight leave on pack. I am little disappointed, might be I expected too much out of this product and brand.
But honestly, you can feel the freshness and glow on your skin. It did make the skin super supple and plump as well.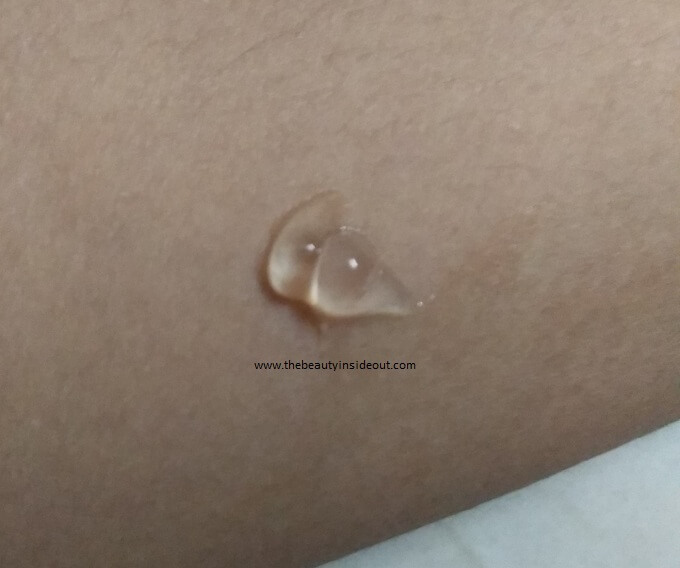 Pros:
Travel friendly packaging.
Clean and Promising ingredient list.
Free of parabens, alcohols, harsh chemicals, artifical color and fragrance.
Nice gel texture spreads easily.
Givesi instant glow and freshness to the skin.
Leaves skin soft, smooth and supple.
Does not dry out the skin.
Suitable for all skin types.
Cruelty-Free.
Cons:
The medicated ointment kind of smell.
No extar ordinary skin benefits.
Rating :3.5/5
Would I Recommend? May be, because I am not sure if I like this or not. I liked the immediate results it gave. Even though I know no product can work magic overnight, it's hard for me to digest that fact and expected too much out of this product. If you are too eager, you can definitely give a try on this oxygen pack. May be you will like it very much.
Guest Author: Abirami Gunasekar