After seeing many bloggers raving about this brand called Aroma Essentials, I wanted to try for myself and see what it has got. Being 100% natural and cruelty free is what attracted me more and so when they had a diwali offer running, I immediately grabbed the opportunity and placed an order with them with no second thoughts. Today I'll share my thoughts on Aroma Essentials Neem Face Wash which is specifically meant for Acne Prone Skin.
Ingredients : Neem Extracts, Aloe Vera, Charcoal Activated, Neem Oil, Eucalyptus Oil
Functions: Deep Pore Cleanser with anti-bacterial properties
Directions of use: Wet face, Apply 1 gm cleanser , Massage all over the face and Rinse with water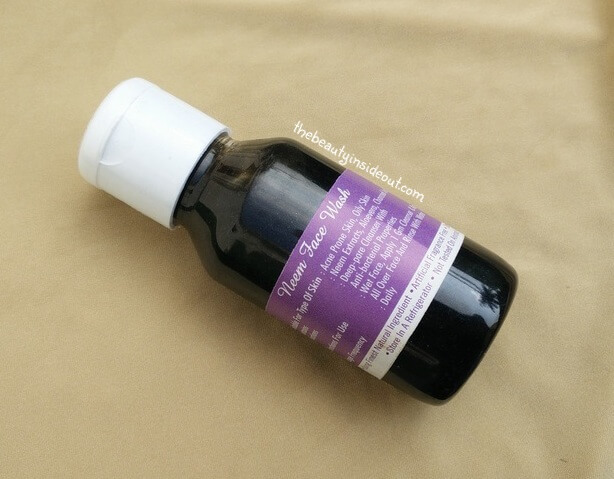 Shelf Life: 6 months
Price& Quantity : Rs.150 for 60 gm
Availablity: Available only online through their Whatsup and Facebook Page
My take on Aroma Essentials Neem Face Wash:
The packaging; a plastic bottle with a flip top cap . Very simple, sturdy and spill proof. And yeah it is travel friendly. The transparent bottle makes it easy to see how much product is still left. So no need for last minute repurchases. The consistency of the face wash is that of a thick gel so you need to squeeze that hard bottle. And when the product reaches the bottom, it is quite difficult to take the product out. I just open the bottle and dip my fingers. I know its not hygienic. But I do that. So I feel a tube packaging would have been better.
The face wash is greenish black in colour and has got a not so pleasing sight (look at the swatch). But that has nothing to do with its efficacy. It works perfectly fine. I could say the face wash is definitely made of natural ingredients from its pure, natural and organic scent. The aroma is a mix of Neem and Eucalyptus Oil which was strong for my liking but honestly after a couple of uses I got used to it. If you do not like strong fragrances in your face washes, then you might not like this.  After all, it does not contain any artificial fragrances added. While using this face wash, you instantly feel some coolness. I think the Eucalyptus oil is what gives that cooling sensation.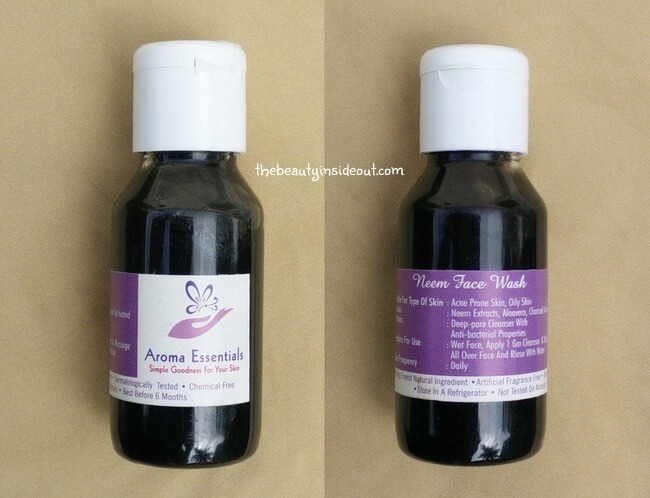 I usually take a good amount of the thick gel and start massaging like I do with face massage gels. Since this is sulphate free, it does not produce any lather at all. Initially I doubted if it would clean up my skin. But I'm impressed, it deeply cleansed my skin removing every bits of dirt and impurities. For a change it was nice to use a non-foaming face wash; my skin loved it. It gave me a refreshed face and my skin was soft and supple. I remember the first day I used it, I couldn't stop touching my face (Not a good habit though). My skin was that velvety soft. Sometimes I like to keep it on for a few more seconds after massaging so that my skin is benefited from all the natural ingredients in it.
Made specifically for oily and acne prone skin, this gives very good oil control ; when I skipped the moisturizer, I could see the oils and sebum that always peek through my skin within 2 hours were delayed (P.S. I do not recommend to skip a moisturizer). Unlike many acne cleansers that dries out your skin, this one did not cause me any dryness or stretchiness. I would say this was quite different from all other face washes I have used so far. It feels so gentle on the skin. I did not experience any sorts of irritation or bad effects while using this. Note that my acne has been under control nowadays so I do not know if it works for active acne, but it didn't cause me any breakouts.
Some might feel that you get only 60 gm for 150 bucks. But as they say if you use 1 gm per usage, it should last you two months when used once a day and one month when used twice. It didn't last that long for me as I ended up using a lot of product every time.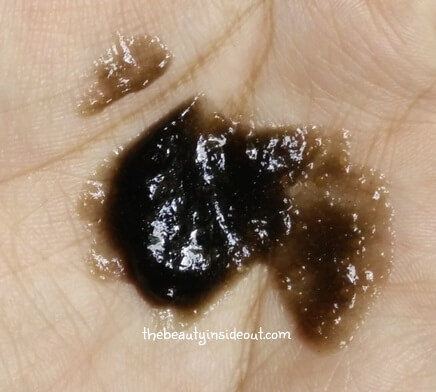 Overall I would say I had a pleasant experience with this face wash. I am planning to get their orange face wash once this gets over as I am not a great fan of this fragrance and I lovvvve citrusy scents. So I would love to try that.
Pros:
100% natural and chemical free.
Contains no artificial fragrance and preservatives.
Small travel friendly packaging.
Does the job of cleansing efficiently.
Skin feels refreshed.
Causes no irritation or breakouts.
It is soap free hence does not lather.
Cons:
Fragrance might be a bother for sensitive noses.
Some might find it pricey for the quantity provided.
Available only online.
Rating: 4.5/5
Aroma Essentials Neem Face Wash is a mild skin-friendly face wash that gently cleanses the skin leaving it refreshed. I would recommend everyone with oily acne prone skin to give this a try especially those who want to get a break from all those drying acne face washes. This would work great for you guys without causing any dryness and yet the goodness of Neem will treat your skin efficiently.
So that's all about Aroma Essentials Neem Face Wash. I hope you find this review helpful. See you again, take care,and
Stay Beautiful♥