As an avid sunscreen user, I refuse to use any sunscreen which makes my skin oily and greasy. Sunscreen formulations are quite tricky and they rarely suit my skin. It is also difficult to get a good one at my budgeted price point. I have been a fan of Korean Mineral Sunscreens for a very long time but never found one worthy of holy grail status. So when I saw the A'pieu Sunscreen being available on one of the popular beauty portals I was very excited. So here's my review of A'pieu Sun Cream and let's see if it lived up to its claims.
Product Description:
With Berry Blossom and Aloe vera to hydrate and brighten the skin, A'pieu Sun Cream takes care of your skin in elevated ray conditions. Reapplication is necessary in every 60 minute
A'pieu Sun Cream Ingredients: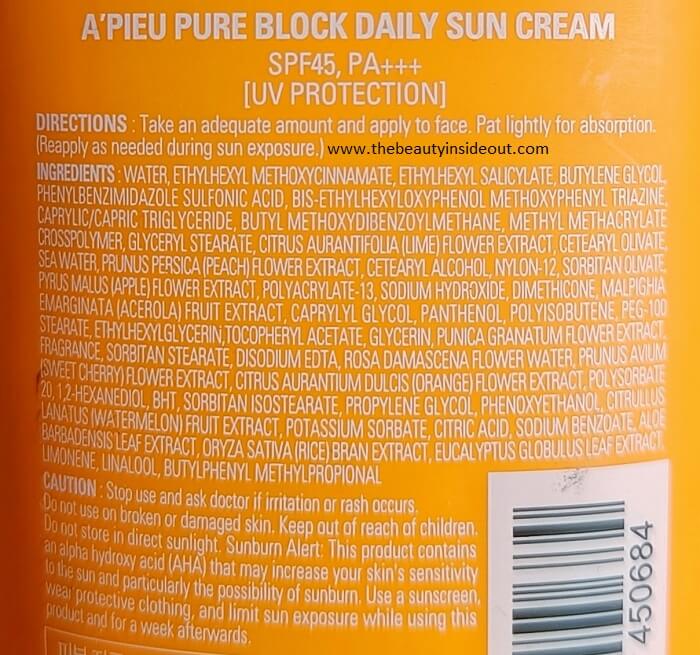 Notable Ingredients: A'pieu Sun Cream has a couple of plant and flower extracts such as Aloe Vera, Eucalyptus, Lime Rose Flower, Persica Flower, etc., and antioxidants such as Vitamin E.
Sunscreen Filters: Avobenzone (UVA filter), Tinosorb S (broad-spectrum), Octyl salicylate (UVB filter), Ensulizole (UVB filter), Octinoxate (UVB filter).
Price: Rs.709 for 50 ml. I bought it from Beautytalk.in
A'pieu Pure Block Natural Daily Sun Cream Review
Packaging: The A'pieu Sunscreen comes in an orange plastic tube which looks quite cool in my skincare cabinet. It's a squeezy tube that comes in handy if you follow the two-finger rule like me. The product is good for traveling and keeping in the bag for reapplication purposes.
Texture: The Apieu Sunscreen is a semi-white liquid that spreads without any effort. It's quite moisturizing. Some people may even find it greasy as well so one can easily skip moisturizer in the morning if one wants to. There is no white cast despite having the ingredient 'Tinosorb S' which is known to be responsible for the white cast in sunscreens.
Fragrance: There is a slight scent to it but it goes away as soon as you put it on your face! Even after face threading when my skin was breaking out everywhere and very sensitive to touch, it didn't break me out or irritate me in any way. So sensitive skin people may try this product.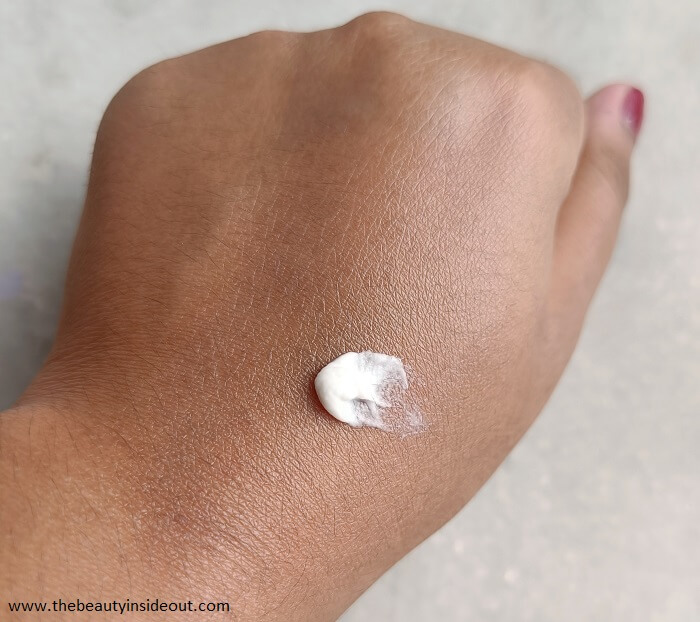 My Experience:
The Apieu Sunscreen has broad-spectrum filters which work well even on long hiking days. I have used this during high UV index when camping and I didn't get tanned. The bottle doesn't mention anything being waterproof so it's safe to say it doesn't have that quality. But after a long day of reapplication, I could see the Sunscreen in my double cleansing pad which is a point worth taking.
The sunscreen comes in very big size so it's quite affordable for a Korean Sunscreen! The reapplication process was quite easy. When used over makeup, it didn't pull or tug the skin.
The only con is I looked very dull and dark after putting this on. I have used it on various occasions and every time my mother pointed out saying that my face is looking very lifeless and dull.
The Sunscreen works very good under makeup and didn't make it look patchy. It gives a nice glow to the skin. Interestingly It has some essential oil mentioned very low in the ingredient list which can make some skin types break out so one should take note of that.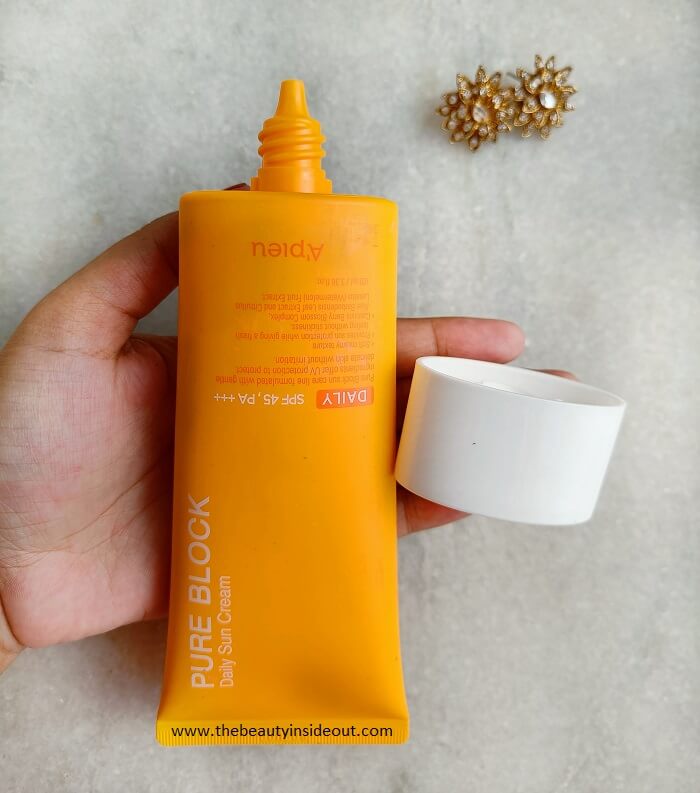 Pros:
One of the most affordable Korean Sunscreens available.
Good range of UV filter ingredients.
Didn't get tan after using in very high index sun.
Reapplication is very easy with this product.
Cons:
Made my skin very oily in the summer humidity.
Made my skin dark.
Rating: 3.5/5
Would I recommend it? Yes, I'd recommend it. It's a good sunscreen that provides broad spectrum protection with great UV filters.
Have you tried this sunscreen? Share your thoughts in the comments section below.